FREQUENTLY ASKED QUESTIONS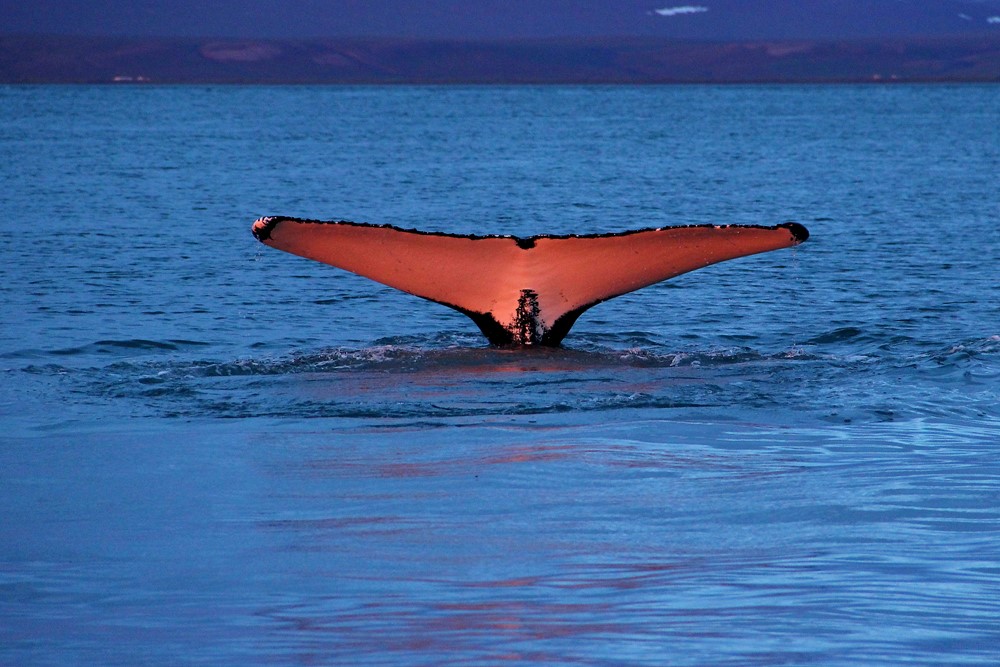 Where is Gentle Giants located?
Gentle Giants is located in Húsavík, northeast Iceland. Our Ticket Center is conveniently located in Húsavík. All our boat tours depart from Húsavík harbour right beneath our Ticket Center.
Are whales seen on all tours?
Our whale watching tours take place in wild nature, which is very unpredictable. The chances of seeing whales are very high, but sightings cannot be guaranteed. If no whales (dolphins included) are seen on the tour, passengers are welcome to join a GG1 Whale Watching tour free of charge, depending on availability. Passengers can get a voucher for a free GG1 Whale Watching tour that is valid for the passengers of the original booking. The voucher is valid on tours where availability and bookings in advance cannot be made. The voucher is valid unlimited. We do not refund tickets if no whales (dolphins included) are seen on the tour.  
When is the best time to see whales?
Generally May to September are our most successful months. However, in recent years, April, October and November have also been successful with whale sightings.
There is no time of the day when we are more likely to see the whales. They come and go and the situation in the bay can change very fast. Sometimes we see many whales, sometimes few. Nature is unpredictable and no two tours are exactly the same – every trip is a new adventure.
Which are the most common whales in Skjálfandi Bay?
The most common whale species are harbour porpoise, white-beaked dolphin, minke whale, humpback whale and blue whale.
Is it necessary to book in advance?
It is possible to make a tour without booking in advance. However, we do recommend booking before, especially during the high season from June to August. For booking:
What type of clothing is recommended?
We offer warm extra clothing on board our boats. We still highly recommend that passengers bring their own warm and waterproof clothes, footwear and protective bags for cameras, as it can be cold and wet out at sea.
Can I change or cancel my reservation?
Online paid reservations which are cancelled more than 24 hours before departure will be fully refunded. Cancellations received less than 24 hours before departure will be charged full price. Reservations can be changed depending on availability on tours, without any extra cost. For cancellations and changes, please contact Gentle Giants directly.
What happens if the weather is bad?
Tours are dependent on weather and sea conditions. For your safety and comfort, we reserve the right to change or cancel departures, even with short notice, should weather or other conditions change. In case of cancellations due to weather, customers receive a full refund or can change their departure depending on availability.
Can people with mobility issues join a tour?
People with mobility issues, please contact us prior to booking and we will be happy to assist you.
What payment methods are accepted?
All prices are shown on our website in ISK and include all taxes. In our Ticket Center we accept all major cards and currencies, based on the current currency exchange rate.
Is there a toilet on board the boats?
For GG1 Whale Watching on board the oak boats there is a toilet on board. For GG2 Big Whale Safari & Puffins on board the RIB speedboats there is no toilet on board. There are bathrooms for our customers by the Ticket Center and harbour area.
Can I take a drone with on the tour?
Due to safety reasons and respect for wildlife, other passengers and boat traffic, drones are not allowed on our scheduled tours.
How can I contact you?
If you cannot find the answer to your question, you are more than welcome to contact us via the contact details above.