Jóhanna
MRS. BOSS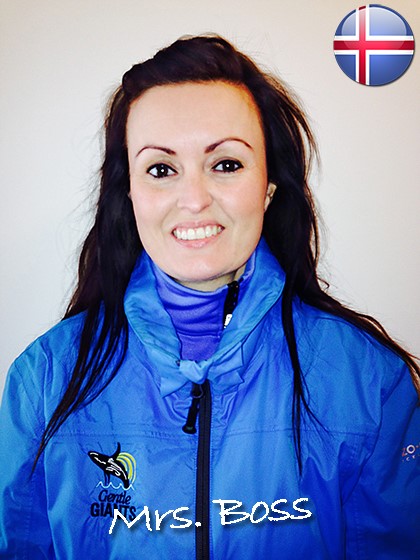 Name: Jóhanna Sigríður Svavarsdóttir.
Position: Human Resource Manager – Captain.
Place and date of birth: Iceland, 11th January 1972.
Hometown: Garðabær, Iceland.
Star sign: Capricorn.
Education: Bachelor of Education (B.Ed), Master of Education (M.Ed) specialized in adult education and human development. STCW courses; Basic Safety Training and Crowd- and Crisis Management. (2014). Licenced captain on passenger vessels within 12 m in length (2014).
Languages: Danish, Spanish, English and Icelandic.
Experience: I've been working for fifteen years for Icelandair as cabin crew. I also work part-time for Mímir-Símenntun. Have been working at Gentle Giants since 2014, both as an employee manager and as a captain on our RIB boats.
Interests: I love travelling, to see new places and meet new people and spend time with friends and family.
Favourite Icelandic food: Everything fresh, new and wild.
Favourite foreign food: I really like Italian food.
Favourite band / singer: Adele, among others.
Football / soccer team: ÍBV!
E-mail: hannasigga@gentlegiants.is
Mobile: +354 898 2030.