Sarah
THE COSMOPOLITAN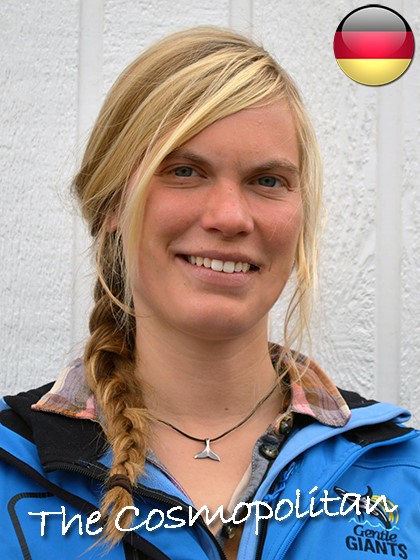 Name: Sarah Arndt.
Position: Captain – Guide – Ticket Sales.
Place and date of birth: Siegen, Germany, 3rd June 1991.
Hometown: Herdorf, Germany.
Star sign: Gemini.
Education: Bachelor degree in "Language and communication" (2014). STCW courses; Basic Safety Training and Crowd- and Crisis Management. German & Icelandic navigational licence (2018).
Languages: German, English, Icelandic, Spanish (basics), French (basics).
Experience: Working as a guide for Gentle Giants since 2012. Started as a captain by Gentle Giants in 2018. Whale Watching in various places around the world.
Interests: Travelling, languages, nature and wildlife, hiking, photography, painting.
Favourite Icelandic food: Plokkfiskur, Fish Soup.
Favourite foreign food: Lasagne, Arepa, Pierogi.
Favourite band / singer: Mumford & Sons, Kaleo, Bardic, Clara Luzia, Guns N' Roses.
Football / soccer team: I don't have any idea of football teams.