Stefán
THE BOSS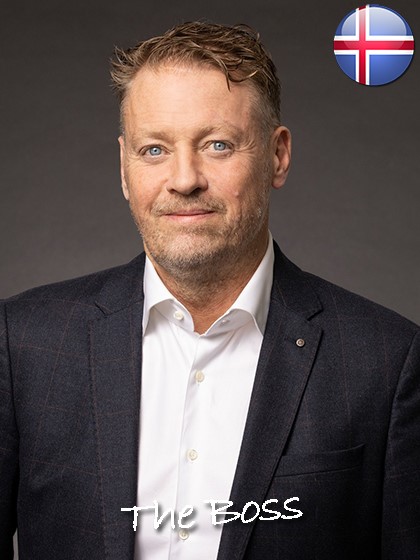 Name: Stefán Guðmundsson.
Position: CEO – Marketing Manager – Captain.
Place and date of birth: Húsavík, 4th December 1967.
Hometown: Húsavík and Flatey on Skjálfandi Bay. Stefán's ancestors grew up in Húsavík, Flatey, Flateyjardalur and Náttfaravík on Skjálfandi Bay. He comes from a long line of fishermen who originally went to sea in rowing boats and then later motorboats.
Star sign: Sagittarius.
Education: Elementary school leaving certificate Húsavík. One year at college in Húsavík. One year exchange student in the USA. Two years at the Navigation College in Westman Islands, Master of fishing vessels – unlimited, with honours.
One year at Navigational College Reykjavík, Chief Mate of Coast Guard vessels – unlimited, Master of Merchant & Passenger vessels – unlimited on coastal voyages.
Various courses in Crowd- and Crisis Management, Search and Rescue, STCW Basic Safety Training and Medical at sea.
Three years at the Technical College in Reykjavík, graduate in industrial management in fisheries sector, specializing in marketing and management.
Languages: Icelandic, English and basic knowledge in most Scandinavian languages.
Experience: Captain on fishing vessels around the coast of Iceland throughout the years. Active board member and participant in family fishing business. Captain and guide on passenger vessels on Skjálfandi Bay from 1982. CEO, marketing manager and board member of tourism company in Húsavík since 2004.
Interests: Taking care of his daughters. All water sports, fishing, skiing and other winter sports. Travelling, the outdoors and sport.
Favourite Icelandic food: All kinds of fresh fish such as cod, haddock, shrimp, lobster, monkfish.
Favourite foreign food: Sushi.
Favourite band / singer: All kind of music – Queen, George Michael, U2, Elvis Presley, Guns 'N' Roses, Quarashi, Pavarotti.
Football / soccer team: The home team Völsungur and Manchester United.
E-mail: stefan@gentlegiants.is
Mobile: +354 898 2514.