Location
HÚSAVÍK
–

THE WHALE CAPITAL OF ICELAND
Húsavík
–

Our Hometown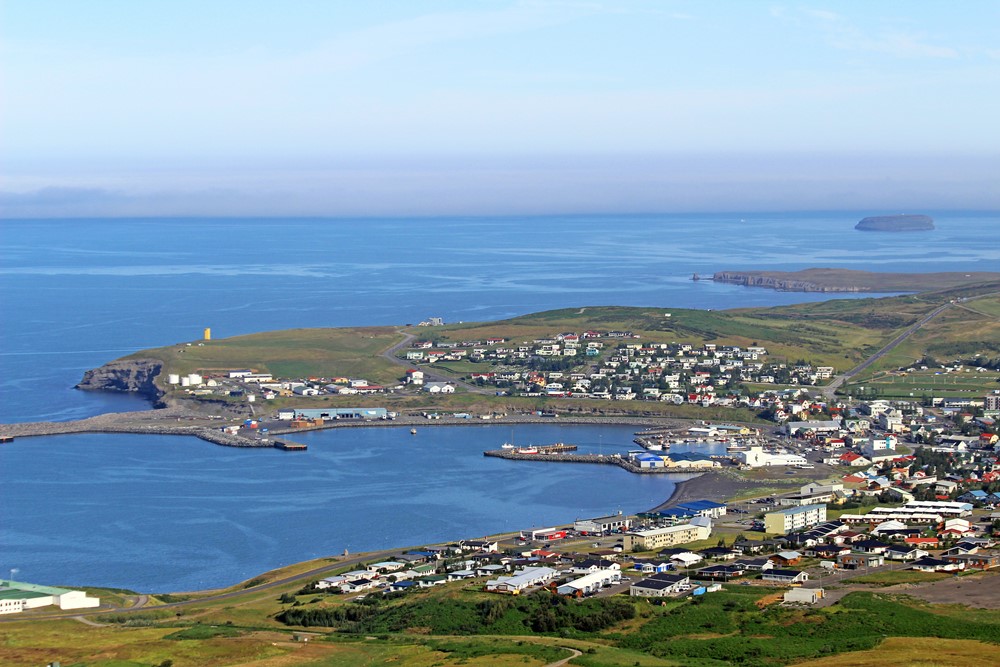 Húsavík means "The House Bay" and is a town in northern Iceland, located on the eastern shore of Skjálfandi Bay. It was first settled in 870 AD by a Swedish Viking, Garðar Svavarsson. According to the Book of Settlement, he circumnavigated Iceland and was the first one to discover it is an island. Garðar spent one winter in Húsavík before returning to Sweden, leaving one of his men, Náttfari, behind. He stayed in Iceland until he died and is therefore considered to be the very first Nordic settler. Húsavík is one of Iceland's oldest local names.
Like many other towns on the coast, the fishing industry has played a vital part for Húsavík's local development. Agriculture and farming have also been important for the inhabitants. Moreover, Iceland's first co-op was founded in Húsavík in 1882. In recent years, yet another trade has grown in Húsavík – the tourism industry. The biggest visitor attraction is whale watching and our hometown has in fact become known as the Whale Watching Capital of Europe. Thousands of tourists visit Húsavík annually in hope of seeing the gentle giants of the ocean.
Despite a total population of only 2,508 (2023), Húsavík is rich with culture and activities. Our top museums are the Húsavík Whale Museum and the Culture House. Geosea Geothermal Sea Baths offers a unique bathing experience overlooking Skjálfandi Bay. Our church, built in 1907, is one of the main symbols of Húsavík, located in the heart of the town. A local and colourful festival called Mærudagar (Candy Days) is held in Húsavík in the end of July every year. For more information about Húsavík, please visit Visit Húsavík.
Húsavík played a major role and inspiration for the song Husavik, in the 2020 Will Ferrell's Netflix film Eurovision Song Contest: The Story of Fire Saga. The movie highlights the beauties of our hometown, including the whales:
"Where the mountains sing through the screams of seagulls
Where the whales can live 'cause they're gentle people
In my hometown, my hometown"
Welcome to Húsavík!

Diamonds around the Corner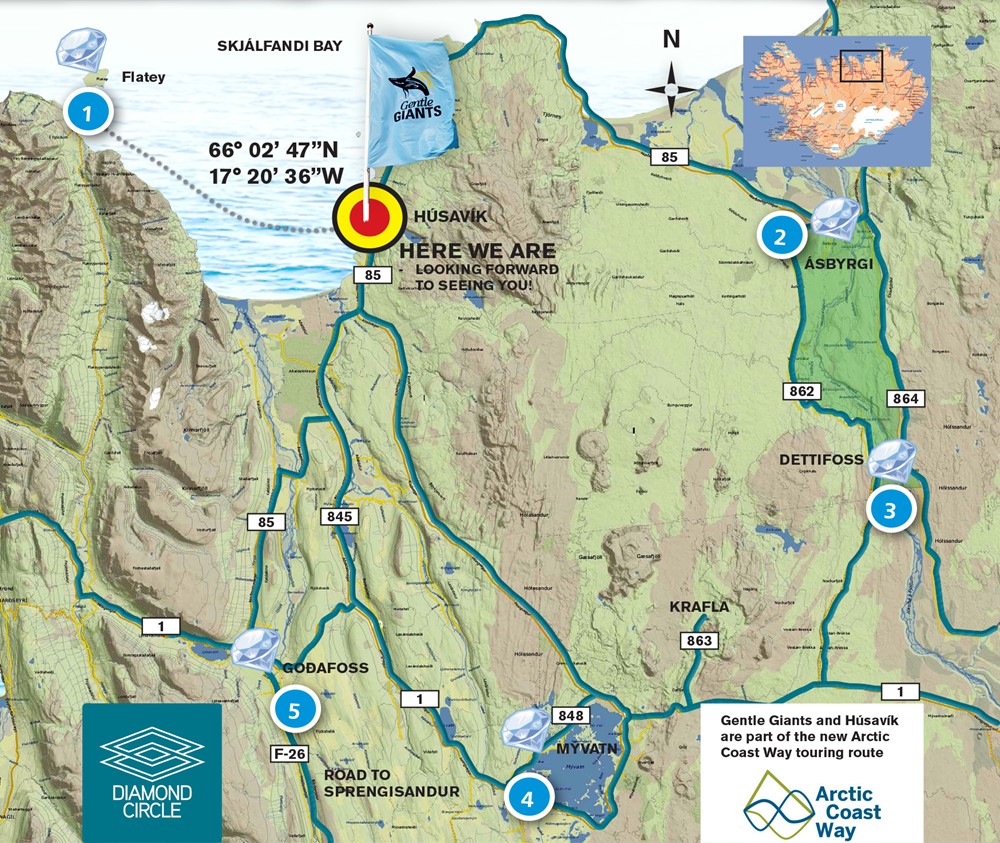 ---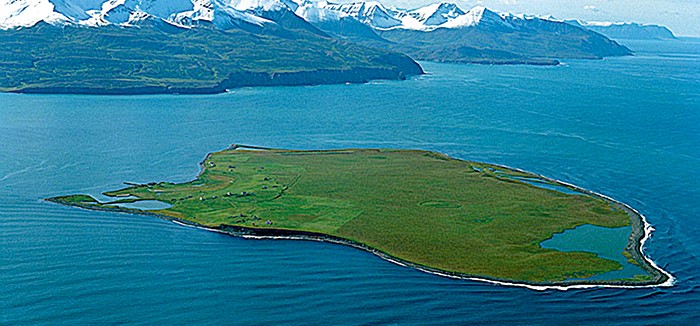 1) Flatey Island (35 min)
Flatey Island is situated in Skjálfandi Bay, only 14,7 nautical miles from Húsavík. The island is about 2,5 km long and 1,7 km wide and is low-lying. The highest peak rises only about 22 m above sea level, which has given its name "Flat Island". This secluded and peaceful paradise is home to more than 30 different species of birds during the breeding season.
Read more about Flatey Island.
---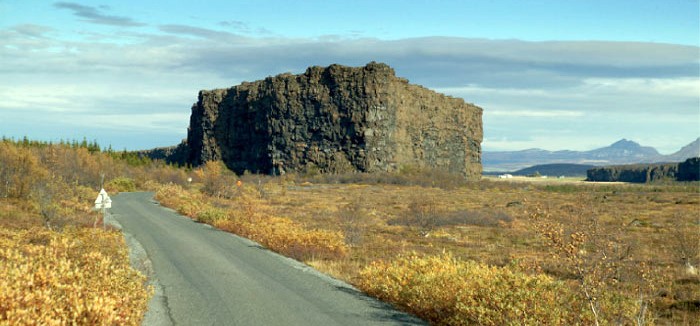 2) Ásbyrgi Canyon (40 min)
A natural marvel, Ásbyrgi is surrounded by 90 to 100 m cliffs. According to legend, Ásbyrgi is a hoof print made by Sleipnir, the eight-legged horse of the greatest of all the Norse gods, Óðinn. Ásbyrgi is a part of the Vatnajökull National Park and makes an ideal territory for walking and hiking. In fact it cannot be explored to its full extent except by foot.
---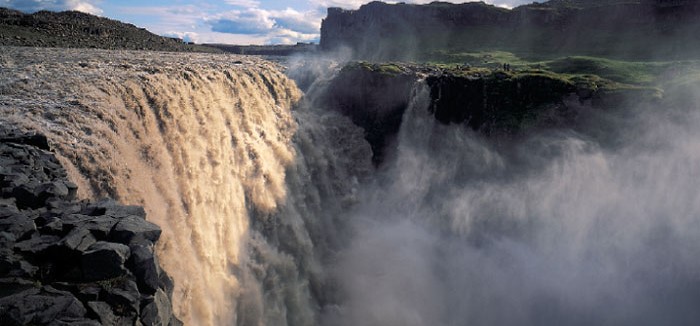 3) Dettifoss Waterfall (65 min)
Dettifoss is considered to be the most powerful waterfall in Europe. It is 45 m high and 100 m wide. Below it in the Jökulsá river is Hafragilsfoss (27 m) and above it is Selfoss (10 m). These waterfalls together form a unity unparalleled in the world. There is a marked walking path from Dettifoss to Hafragilsfoss.
---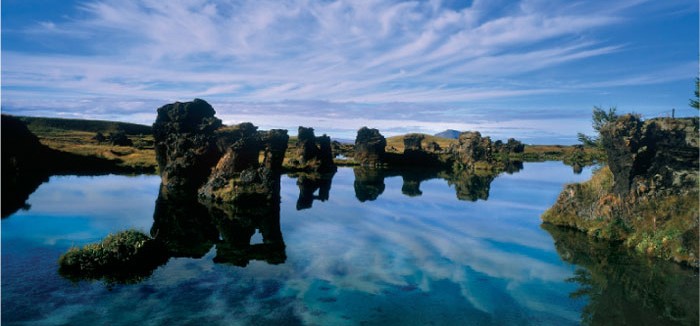 4) Lake Mývatn (40 min)
Lake Mývatn is a unique source of endless discoveries and no visitor to Iceland should leave without exploring the area. It is the fourth largest lake in Iceland, measuring 37,3 km2 , with an exceptionally rich fauna of waterbirds in the summer. Frequent lava flows have left the lake irregular in shape and dotted with stunning islets and rock formations.
---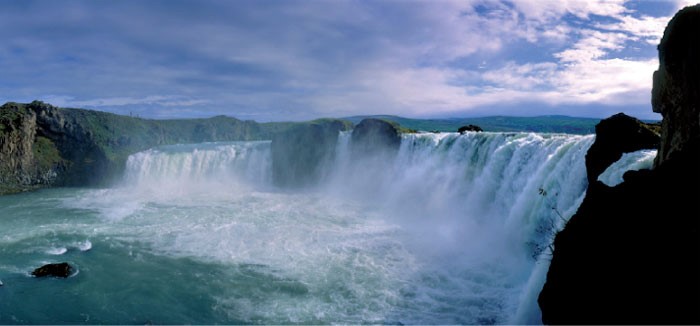 5) Goðafoss Waterfall (30 min)
The name literally means Waterfall of the Gods and is a part of the glacier river Skjálfandafljót, located right by route 1. This magnificent waterfall is 12 m high, 30 m wide and can be viewed both from the east and west side all year around.
---
Road Distances to Húsavík (km)
| | | | |
| --- | --- | --- | --- |
| Mývatn | 54 | Höfn | 471 |
| Akureyri | 75 | Selfoss | 503 |
| Seyðisfjörður | 246 | Vík | 632 |
| Egilsstaðir | 219 | Gullfoss | 545 |
| Reykjavík | 463 | Keflavík | 504 |
| Borgarnes | 389 | Þingvellir | 480 |
| Ísafjörður | 614 | Grundarfjörður | 449 |