Arrival of our new boat …

Latest addition to our fleet is the 7,7 ton "Athena". This vessel, built in the year 2000 in Hafnarfjordur, and rebuilt in 2005 especially for Gentle Giants, makes the ideal Whale Watching - and sea-angling boat, with all the comfort of a passenger boat.
With the horsepower of 420 you can be sure it takes you to the destination in short time, being the fastest boat in the Whale Watching and sea activities in Skjálfandi Bay.

Aþena carries 24 passengers, and yesterday on its maiden voyage it held a group from the ICELANDAIR marketing offices in Copenhagen.

The captain Jón Christian and the crew sailed across the bay and landed on the harbour of Flatey Island, on the northwest opening of Skjálfandi, where they barbecued the catch they had landed on their way, mostly cod, which is the most common fish Skjálfandi bay, and the largest export in the Icelandic fish industry. Everyone returned to Húsavík after a good trip to the Icelandic nature, at its most virgin state.

Following are a few pics from the trip, and we wish Icelandair Copenhagen a safe journey home, and thank them for the visit to Húsavík and Flatey!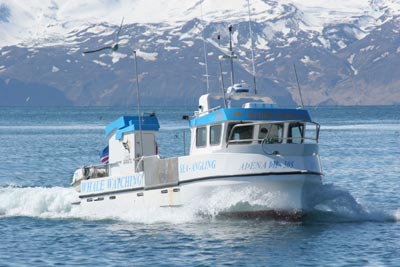 Aþena sailing in Skjálfandi Bay ... Picture: Hafþór Hreiðarsson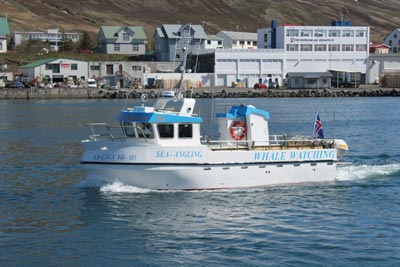 Aþena in Husavik harbour .... Picture: Hafþór Hreiðarsson





The Icelandair group went Sea-angling on Aþena with a great success !!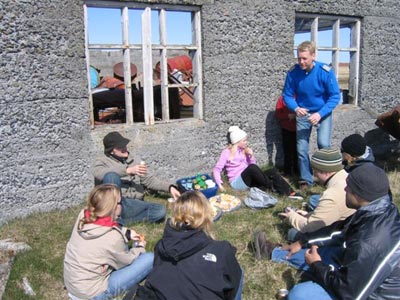 The catch being barbecued and eaten in Flatey Island ...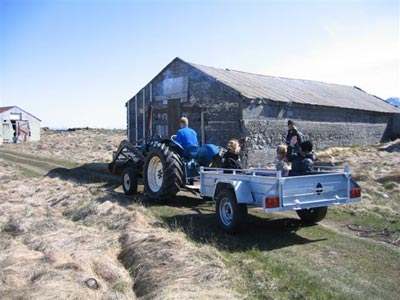 Island taxi....