Humpback in Skjalfandi!!

This weekend is called "verslunarmannahelgi" (Merchants' weekend) which is a 3 day weekend, with Monday being the holiday of the salespeople. Lately however the salespeople have been the only ones working at this very weekend, and everyone else goes out camping.

This weekend has been extremely beautiful here in the north, with high temperatures and very calm winds. Skjálfandi has been busy with groups of White Beaked Dolphins and Minkes, a Blue Whale was seen yesterday, and this morning the guide onboard Faldur saw a spout of the humpback, but it wasn't until the one o'clock trip that they could reach it and take a good look at it. The weather conditions for the coming days seems to be good for the northeast Iceland, and hopefully conditions for whale watching will continue to be as good as the past days.

Photos taken by Agnes Ýr Guðmundsdóttir.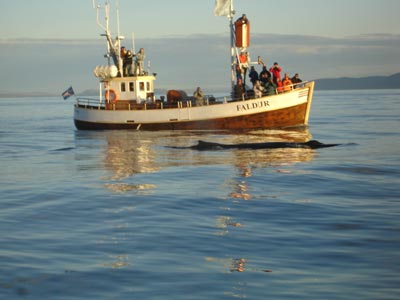 Humpback next to Faldur ...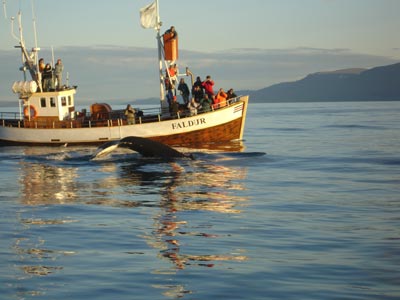 ... and taking a dive!