7 WEEKS IN MADAGASCAR

After Christmas María, one of our guides, had the opportunity to join a Marine Research Project in south Madagascar for 7 weeks and there she went. Madagascar is the world's fourth-largest island in the world and due to its isolation in the Indian Ocean, about 70% of the estimated 250.000 species found there exist nowhere else on the globe. It's also an extremely poor country where phones and internet access are unknown in parts of the country (it was very difficult to contact her while there, she had no phone or internet access in the remote town she was). In some villages in fact, children have never seen a person with white skin. "In some of the villages we visited, we saw children crying terribly scared when seeing us," María says. Also, infrastructure is very poor and when they exist, they are frequently in very bad condition. "It took us 11 hours to make 200 kilometres in the back part of a truck without seats at 30ºC!!".

Main activities while there were diving to collect data and surveying the health and status of coral reef habitats - "We would dive almost everyday, once or twice. I've seen all kinds of corals and beautiful colourful tropical fishes. Unfortunately no whales as it was not the season but they see lots of humpback whales there as well, crossing the Mozambique Channel, from June to September" - and participating in social research projects like fisheries surveys and English teaching in local schools. "It's been very interesting to be there, specially sharing daily life with locals and seeing them going out fishing everyday in their little pirogues. Fishing is their only way of living, and rice and fish their only diet. Trying to buy something different to eat in the town was almost impossible; melons or mangos from time to time". One of the aims of the project is to create a Marine Protected Area in order to assure the health of the reefs, so important for local communities.

Here you have some pictures of hot Madagascar (it's summer time there now) "It was insanely hot and temperature of the water would rise up to 28ºC!!".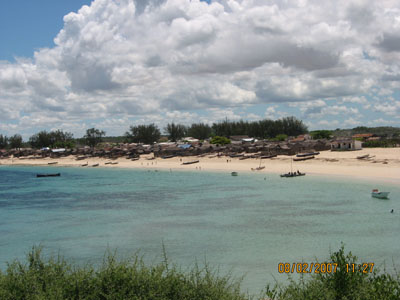 A village Maria visited.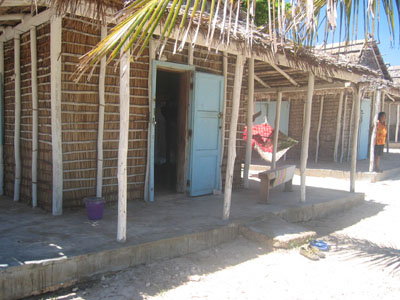 One of the huts Maria's group stayed in during their stay in Madagascar. Electricity and water only available for a few hours during the day.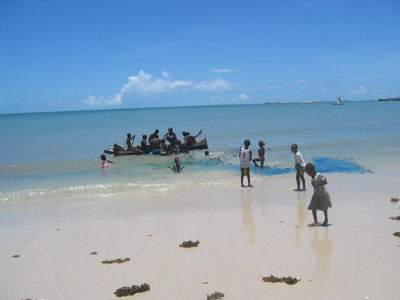 A pirogue just back from fishing.