IT'S THE FINAL COUNTDOWN

The very first tour of the year, scheduled at 10:45 on Thursday, is almost fully booked already. To meet the demand we have opened up an extra departure at 14:15. This is so much fun, especially as we have never started the season this early before.

Daniel and I, Alexia, have the pleasure to be the first ones to meet our March guests, in Gentle Giants' Ticket Center – conveniently located along Húsavík's main road. By us you pick up your whale watching tickets and get all the information needed. From there you walk down the little hill to the harbour, where captain Pétur and guide Miro await you and welcome you on board our oak boat Sylvía. They take care of you while entering the wilderness of Skjálfandi Bay, with the aim of encountering the gentle giants of the ocean.

If you are planning on whale watching with us, it is always a good idea to book your tour in advance so that you have secure places on the tours you wish. Keep in mind that some departures already start to fill up so do not wait too long. Easiest is to book your tickets here on our website.

Please contact us if you have any questions:

– Via email: info@gentlegiants.is
– By phone: +354 464 1500

Welcome aboard!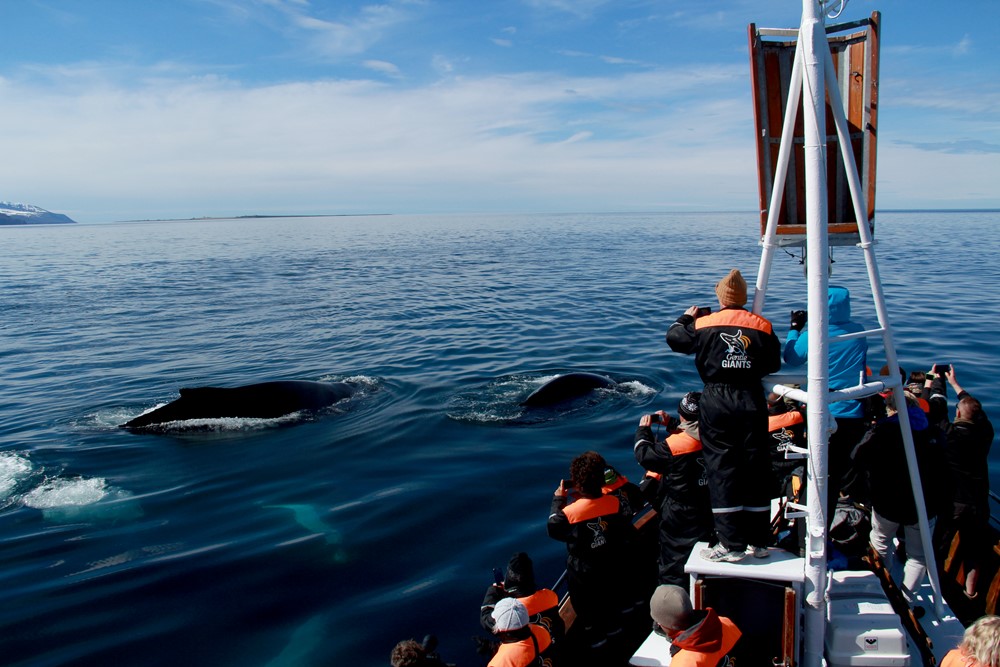 Three relaxed humpback whales right next to our boat (do you see them all?). Photo: Þórdís Björt Sigþórsdóttir
Top photo: Charla Basran