HIGHLIGHTS FROM 2019

A new year has begun and it is not a long time to go until the next season will start on March 1st. But before our boats will start sailing in Skjálfandi Bay for the 19th season, we would like to take you on a journey through our highlights of 2019.

Gentle Giants had a great year with amazing whale encounters, many exciting projects in the maintenance department, we were awarded internationally for one of our tours, and last but not least, worked with a fantastic team to be very proud of.
---
Whale Sightings in 2019
Let's start by embarking on a journey through a series of photos of our whale sightings:
Our season started on March 1st and within the following weeks, several species visited Skjálfandi Bay. We got to observe the first humpback whales of the season, blue and fin whales stopped by a couple of times, but also orcas (killer whales) came for a visit repeatedly – more often than ever before.
Since a few years, orcas have been showing up several times in the early season, especially from March to May. Photo by guide Nacho Oria.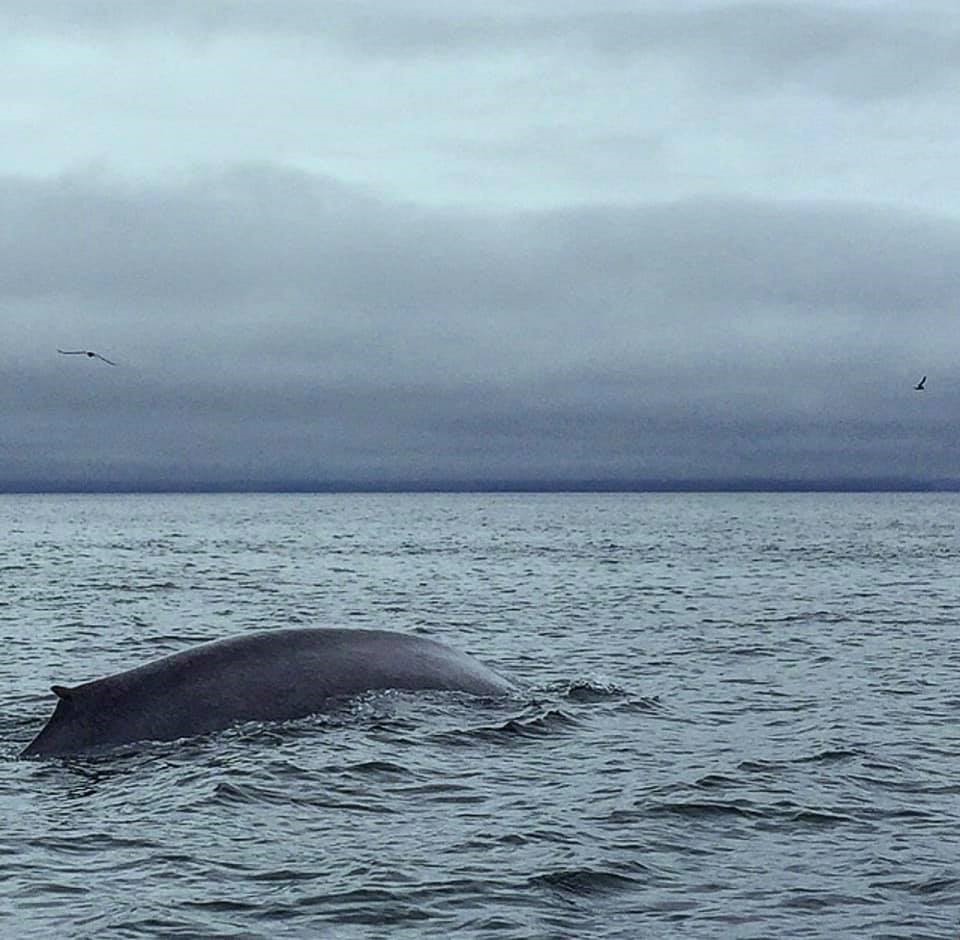 Blue whales were also sighted in March. Photo by guide Aksel Nordeng Bjarnason.
In April more humpback whales were seen and also the orcas kept showing up. Then, out of the blue, a group of sperm whales showed up one afternoon. At the same time, our lovely puffins returned to Lundey (Puffin Island) to start another nesting season.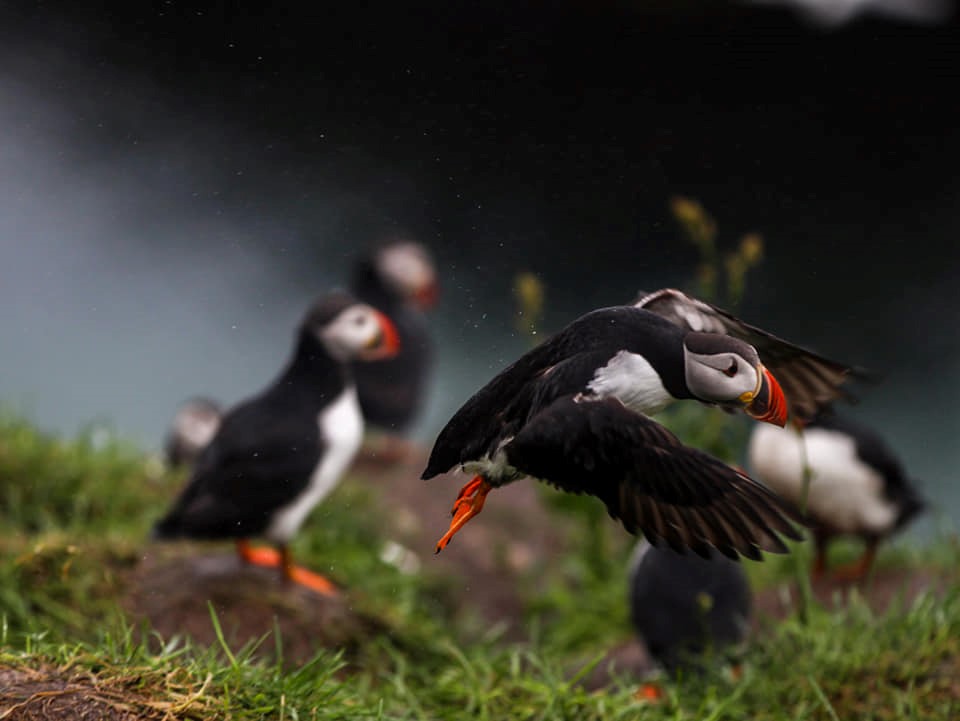 Puffins spend the winter months out at sea before then returning to land for the nesting season. Photo by guide Sarah Arndt.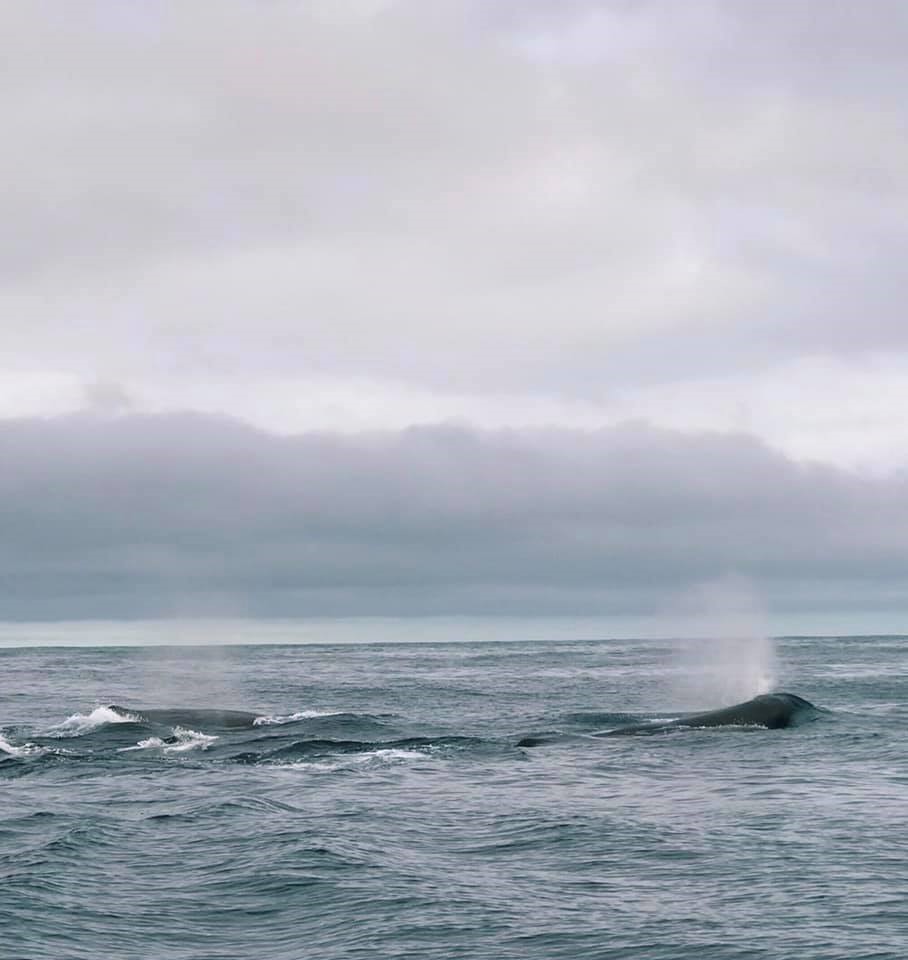 Sperm whales are indeed a rare sight, but one afternoon they appeared on our tours to much joy for crew and passengers. Photo by guide Aksel Nordeng Bjarnason.
In May the bay was filled with humpback whales, which had just returned from the tropical waters and – hungry as they were – feasted on the rich food abundance Skjálfandi Bay has to offer. Photo below by guide / researcher Charla Basran.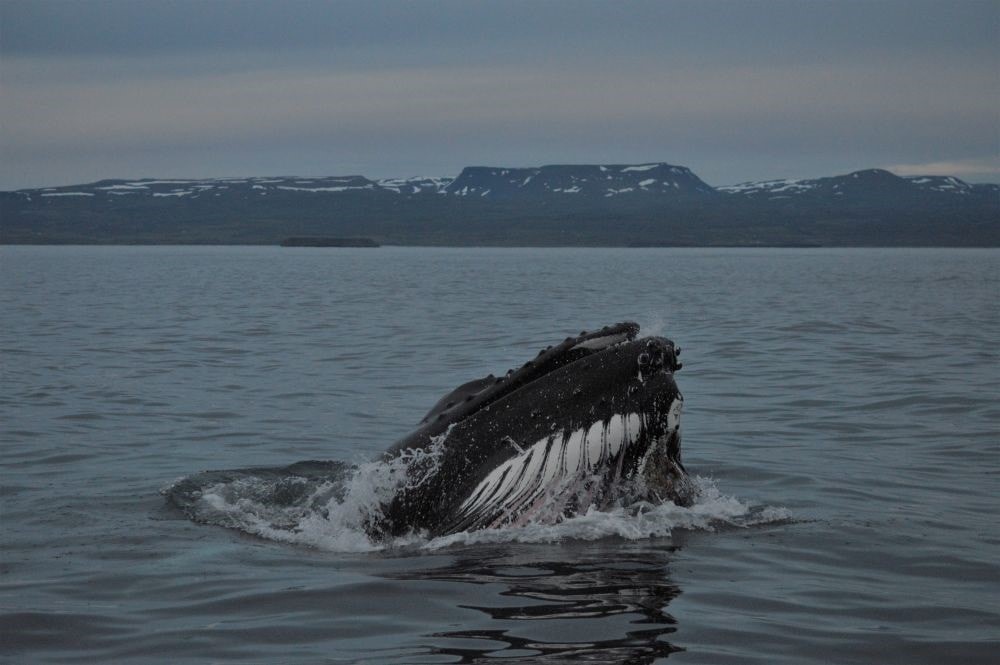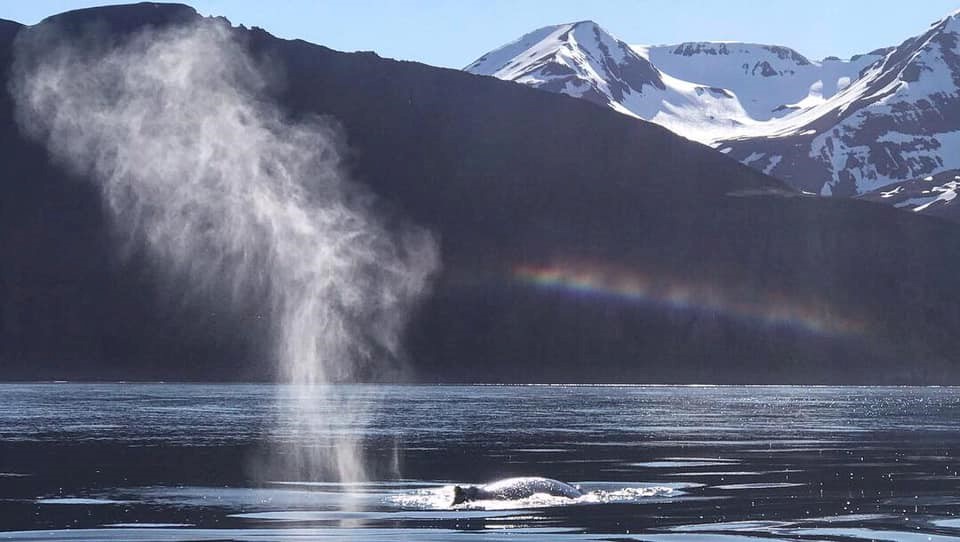 In flat seas and sunshine, a humpback rests on the surface after having had a huge portion of fish for lunch. Photo by guide Aksel Nordeng Bjarnason.
In June the blue whale season came and so did the awaited giants of the sea arrive. Especially on our GG2 Big Whale Safari and Puffins, which is operated in our modern RIB speedboats, blue whale sights tend to be common throughout June. Along with the largest animal on earth, humpback whales were also seen in large numbers all over the bay. Photos below by guide Sarah Arndt (1st image of a blue whale, 2nd image of a humpback whale).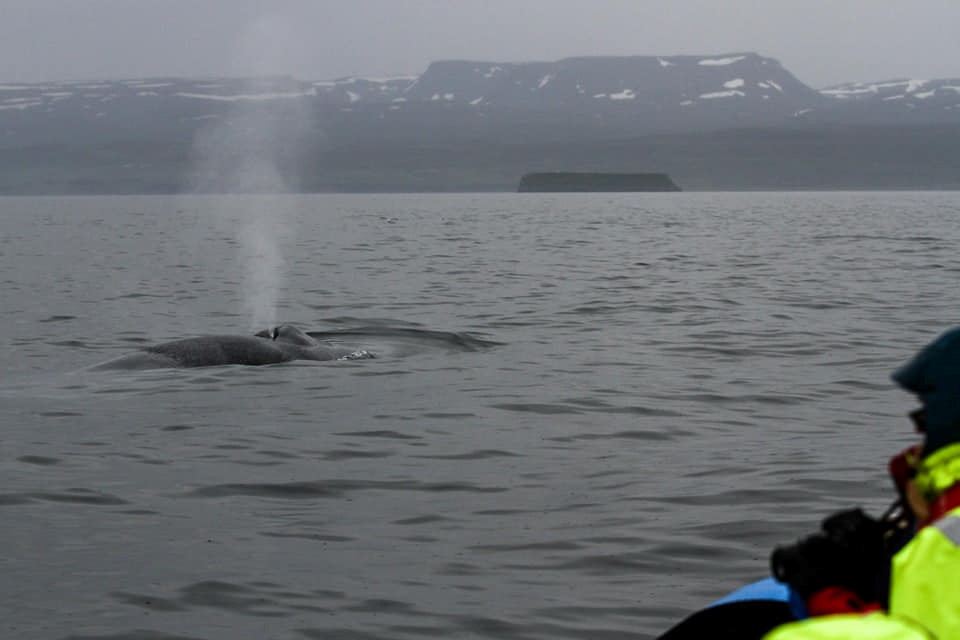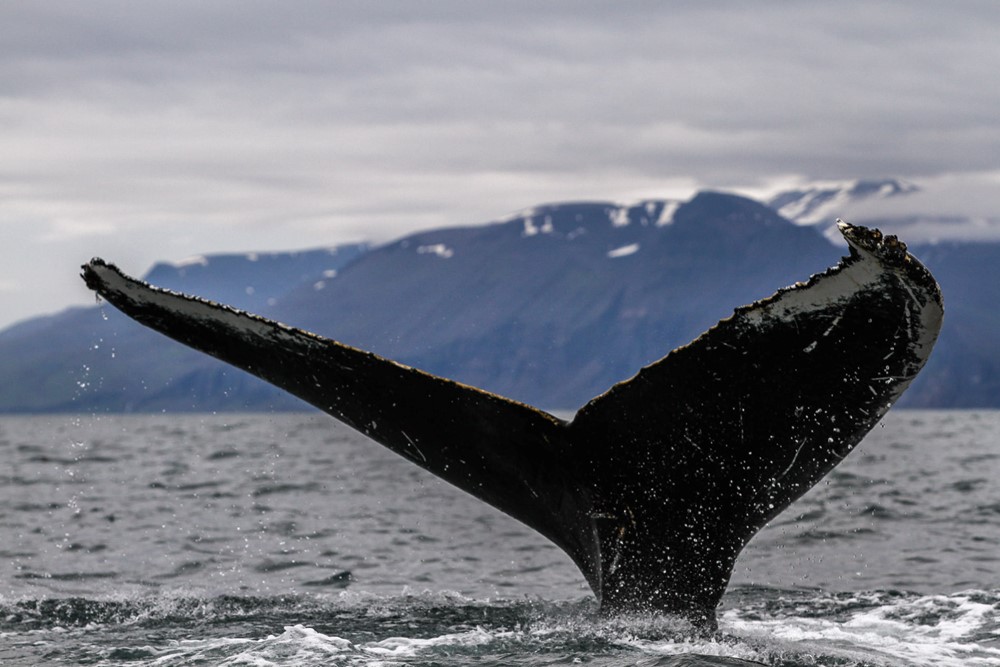 June and July are the months of the midnight sun. For several weeks we offered a midnight sun tour which enabled our passengers to experience the spectacle out at sea whilst being surrounded by whales. At this time, humpbacks often appear more active and every once in a while, one can see them breach out of the sea, lobtail or socialise with other individuals that are nearby.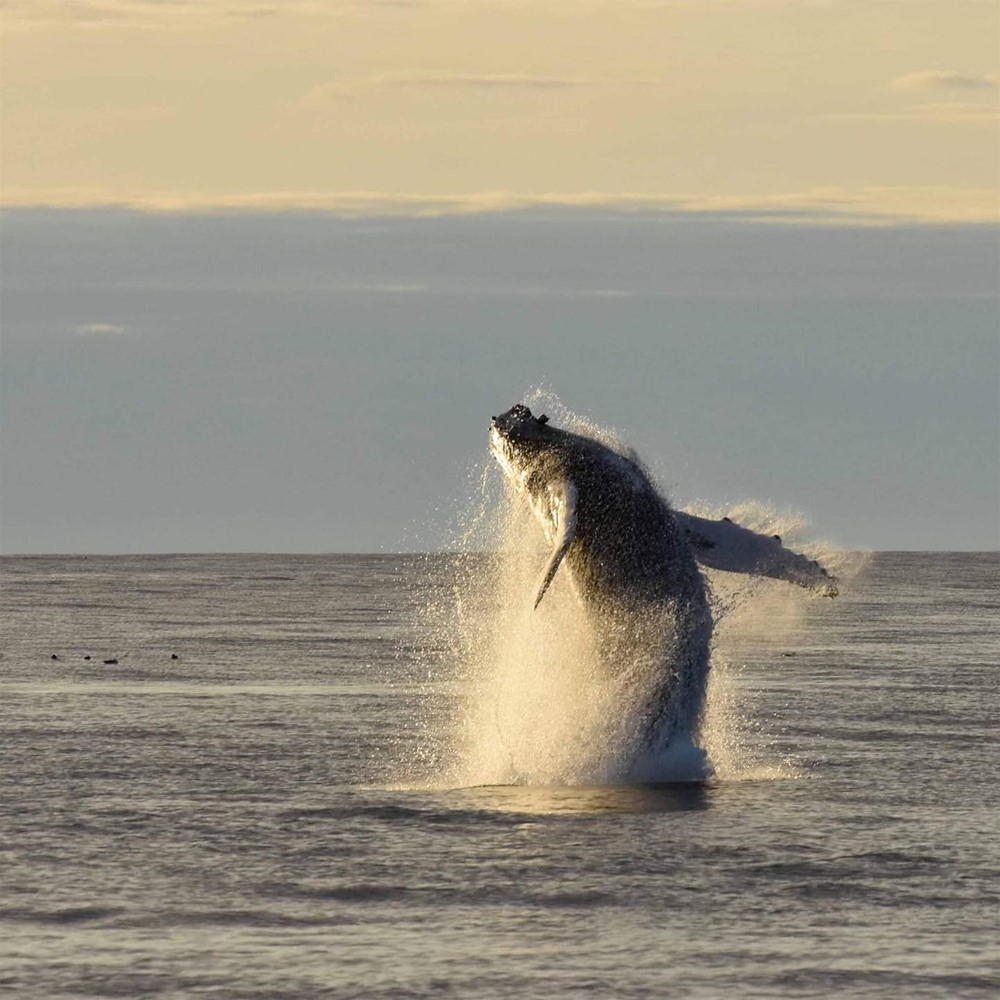 A humpback breaching whilst the sun lit up the water in sparkling colours. Photo by guide Clément Brun.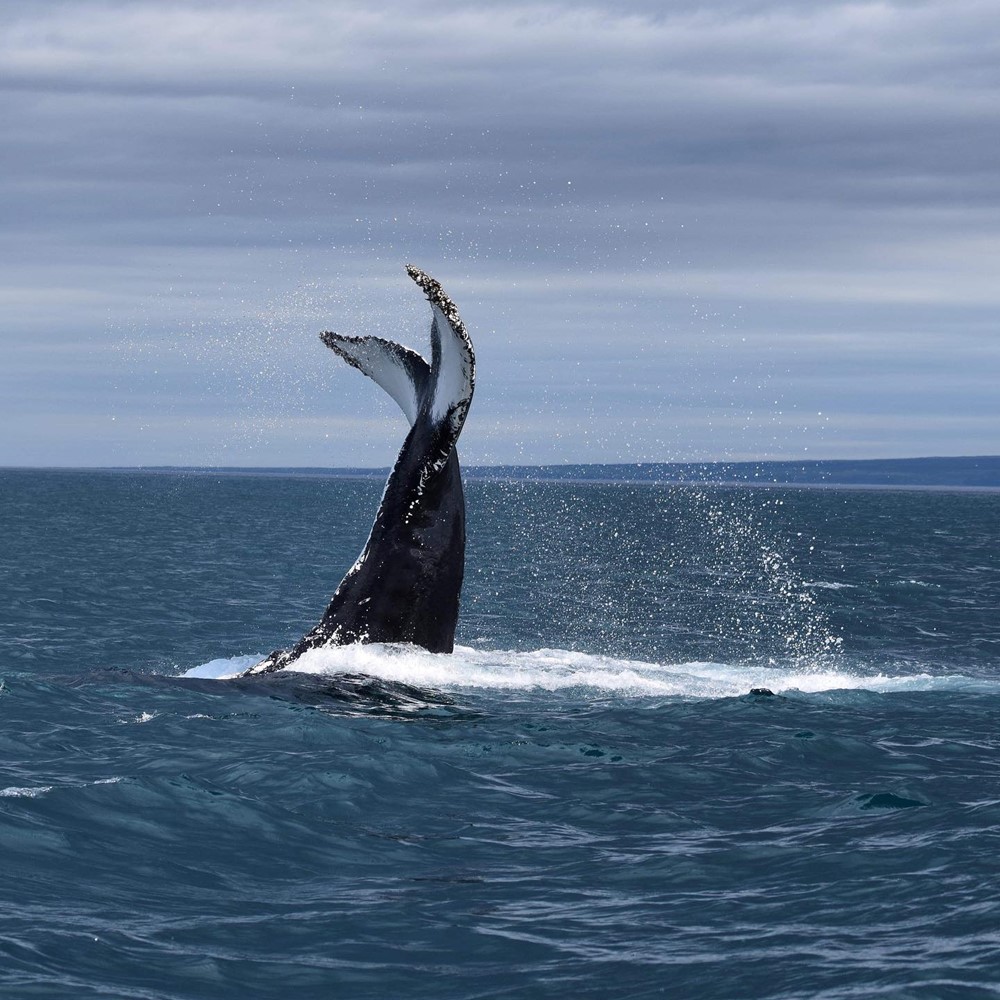 A lobtailing humpback whale photographed by guide Katrina Davies.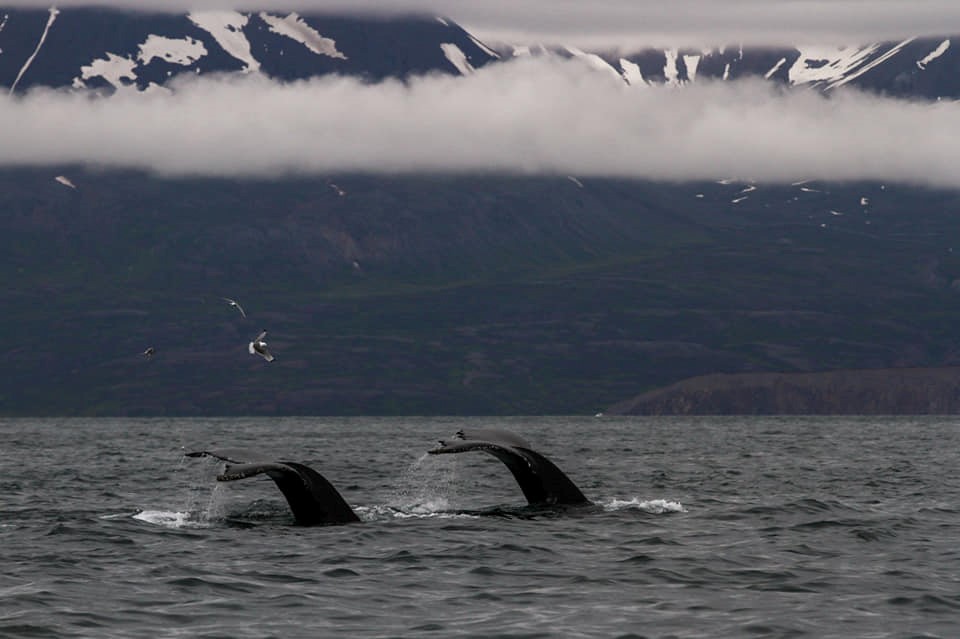 Two humpback whales socialising and leaving for a dive simultaneously. Photo by guide Sarah Arndt.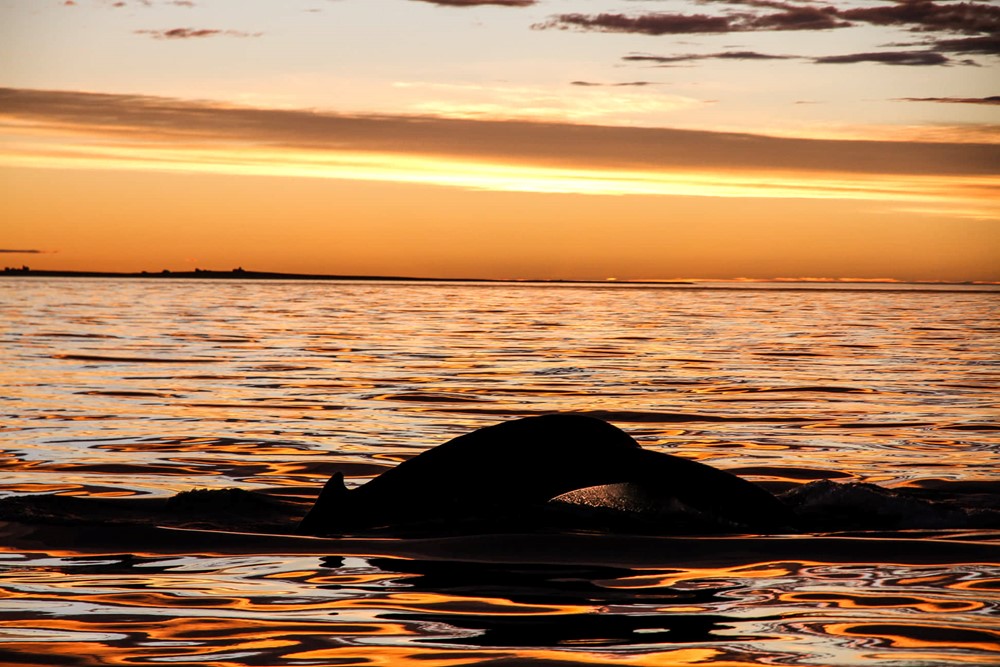 The silhouette of a humpback whale taking a dive during the midnight sun with Flatey Island in the background. Photo by guide Sarah Arndt.
August and September continued with humpback whale sightings, but more and more often, also northern bottlenose whales crossed our way as we sailed through the bay. One day, a late blue whale surprised us far south in the bay. In late August, the puffins have finished their nesting season and therefore head back to the open sea.
In October and early November, minke whales seemed to dominate the bay, especially the area along the mountain side. Many times they were seen feeding on small fish swarms nearby our famous Fiskisker (The Fish Rock), a pinnacle standing out of the water metres away from Kinnarfjöll (the Cheek Mountains). Along with minke whales, dolphins and big numbers of harbour porpoises appeared in the bay, whilst also northern bottlenose whales and humpbacks kept showing up.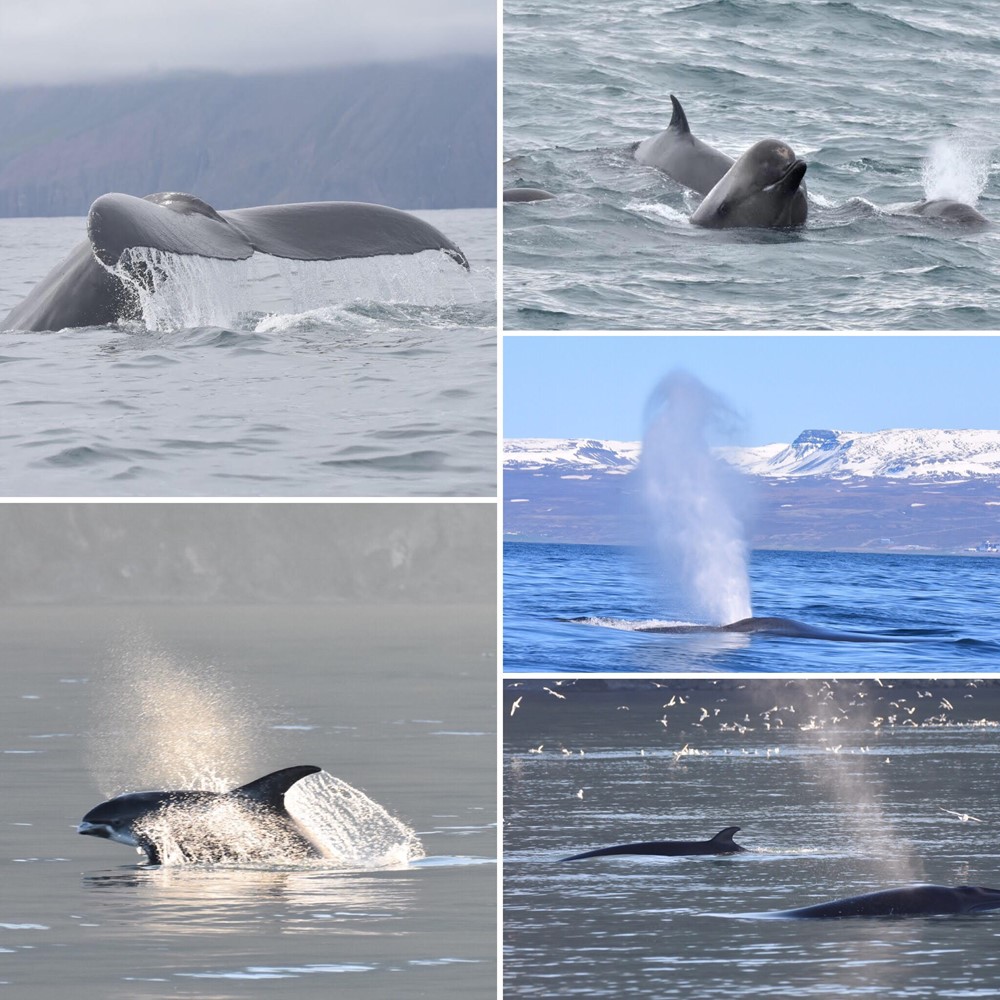 Photos by head guide Natàlia Amigó Chaparro (top left: humpback whale, bottom left: white-beaked dolphin, top right: northern bottlenose whales, middle right: blue whale, bottom right: minke whales).
As November proceeded, more and more humpback whales returned to Skjálfandi Bay, probably on their way south they decided to make a stop-over to get one last proper meal before a long journey back towards the Caribbean. At peak times, up to 30 individuals were seen feeding on small herring and other schooling fish in a mile radius from the boat. At the same time, beautiful winter weather and calm seas enhanced the tours as the low sun lit the sky and landscape in as many colours as one can imagine. Tours operated every single day in November, which is very unusual for that time of year due to weather. We have slowly but surely always been lengthening our season but this was absolutely unique and even reached the national media. Who would have believed a few years ago that we would be witnessing such large number of humpbacks in the bay in fantastic weather in November? Below photo by guide Sarah Arndt.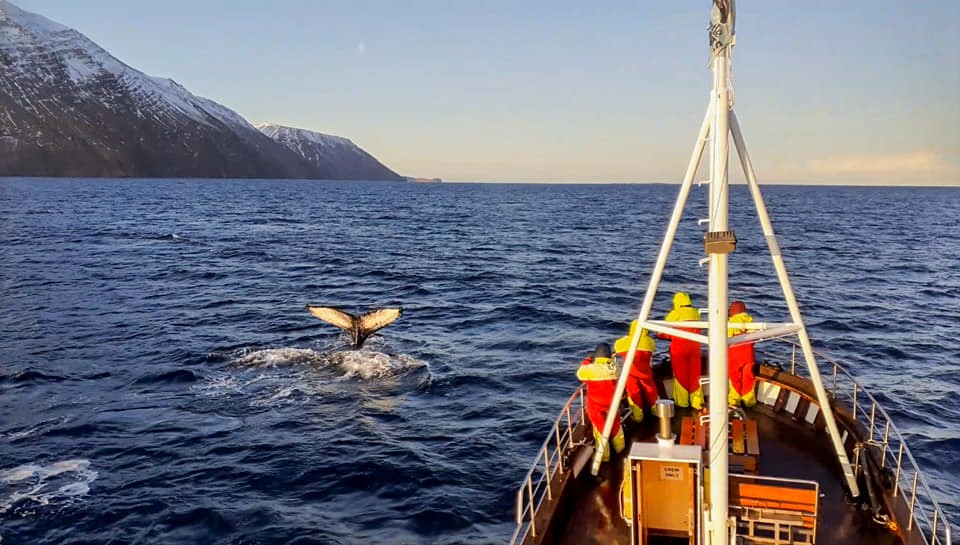 ---
Busy Year in Sales Department and Maintenance Team
Aside all the fantastic whale visitors we had, many things have been going on behind the scenes:
Throughout the year, our sales team was very busy. We attended travel trade shows such as Mannamót in January (photo on right below) and Mid-Atlantic in February. Always proudly representing Gentle Giants, strengthening existing business relations and creating new ones. During the season, we welcomed more international and Icelandic travel agents visiting us in our new headquarters than ever before. Then in October, our tour Big Whale Safari & Puffins was named one of the top "Water Adventures" in Europe in the GetYourGuide Awards for incredible travel experiences (photo on left below) – the only tour in Iceland awarded! The award ceremony was held in Berlin in December where our team member Daniel participated. We are very proud and this award confirms and underlines that we are surely on the right track in outstanding service and delivering a great experience. Throughout the year, Gentle Giants is very active in participating in all kinds of organisations and committees to work towards sustainable tourism development in our region and Iceland.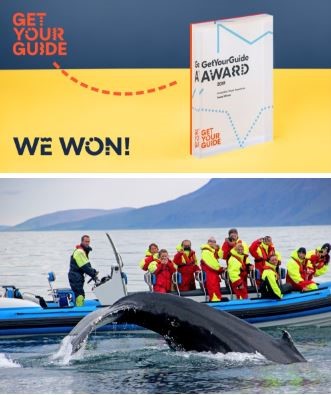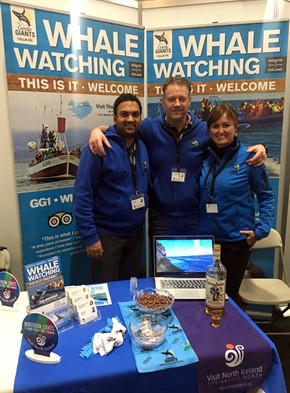 At the same time, neither our maintenance department rested: throughout winter and right for the seasons start, our oak boat Faldur experienced a total renovation and make-over of its interior, making it more accessible for the crew as well as our customers. Then in summer, our facilities at the harbour were upgraded to improve and deliver a better area for our customers to prepare and dress for the tours. At a similar time, our maintenance crew conducted a lot of work around the recently bought facilities owned by Gentle Giants' CEO Stefán Guðmundsson on the island Flatey, to where the company has strong family roots to. In late autumn, our sea angling boat Aþena was taken out of the water and brought to Reykjavík, where she will be modernised with a new engine and receive a general beauty treatment at the same time. She is supposed to return to do yet another lumpfish season before then serving again as sea angling and whale watching boat in the summer. This year the company also bought a large building in Húsavík where our workshop and maintenance department for our fleet is located.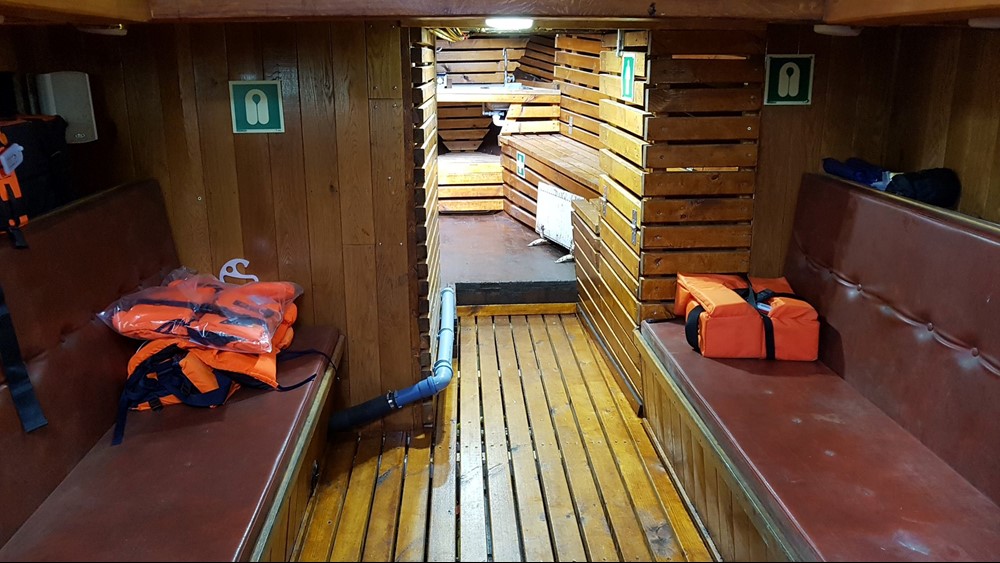 Oak boat Faldur after a winter-long renovation of its interior. Photo by captain Hallgrímur Guðmundsson.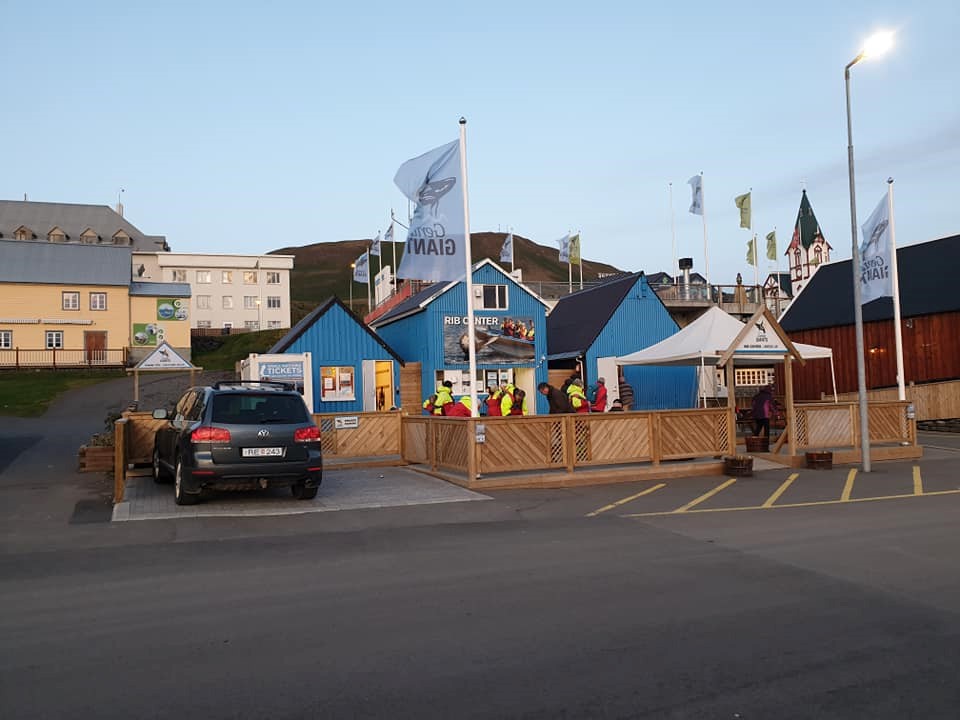 A patio was built outside the huts, which is used as a preparation and dressing area, especially for our customers joining tours on the RIB speedboats. At the same time, the huts got a makeover. Photo by CEO Stefán Guðmundsson.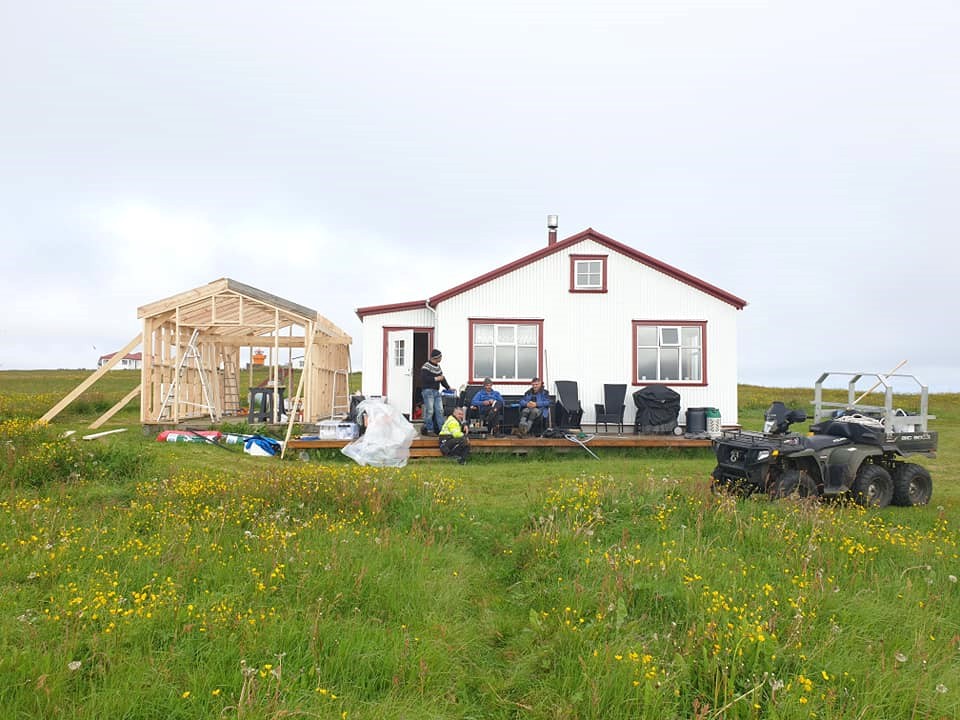 Lots of things have been going on out on Flatey: Here is a before and after comparison of the work done by our maintenance crew. Photos by CEO Stefán Guðmundsson.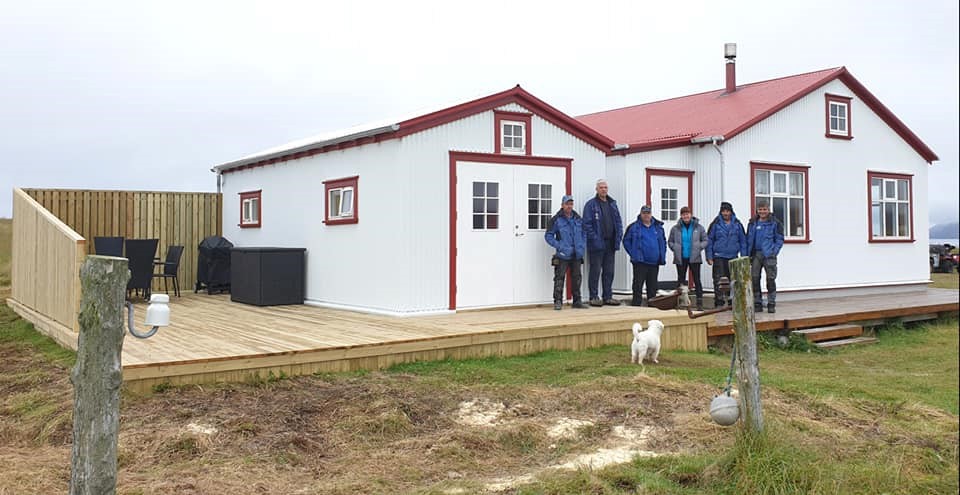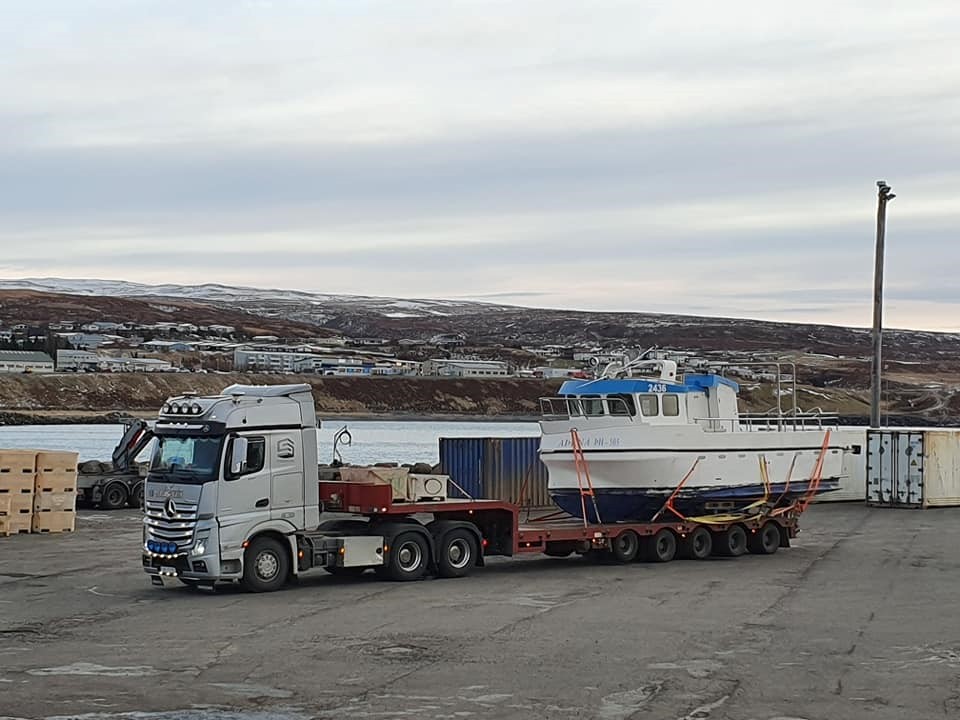 Aþena loaded on a lorry at Húsavík harbour, right before starting her journey to Reykjavík. Photo by CEO Stefán Guðmundsson.
---
Proud of our Blue Team
Gentle Giants' crew is a good mix of local and international people with diverse backgrounds and experiences. We all share a passion for whales and their nature. The staff of 2019 was incredible and together we strove to give our guests the best experience possible. Also, we are proud to say that in 2019, we were happy to have all our guides from the previous year back. Apart from being a great team out at sea and on land, we – the Blue Family – also had a lot of fun with BBQ nights, a staff trip to Flatey and a Christmas buffet dinner.
It is sure to say that 2019 was successful and many things going on at Gentle Giants. The company is expanding step by step with a great team behind and many exciting projects ahead.
Giant thanks to all of our passengers, co-operators and staff for making our 18th year so memorable and successful!
We are now looking forward to share season 2020 with you – starting on March 1st.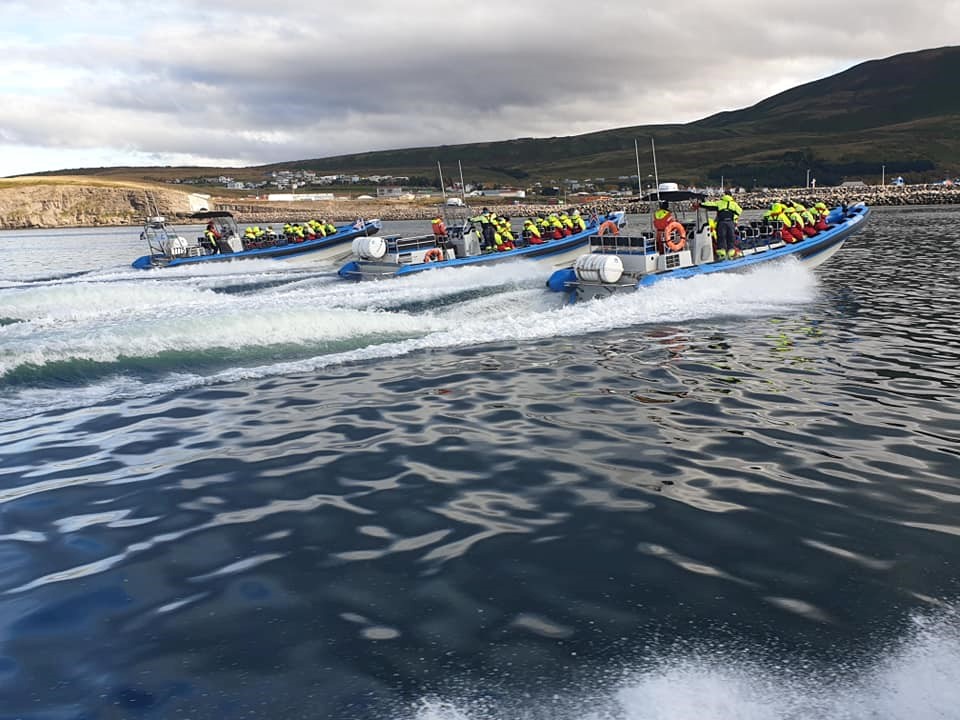 Photo by CEO Stefán Guðmundsson.
Sarah Arndt, Captain – Guide – Ticket Sales
Daniel Annisius, Assistant Manager – Sales