OUR "HÚSAVÍK WHALES" SPOTTED AROUND THE WORLD

Humpback whales are known to often migrate long distances between their feeding and breeding areas. Many come to the colder regions around Iceland for feeding during the summer months but then some head south to warmer waters in the winter for the breeding season. Through the humpback whales' unique pattern on their flukes, it is possible to identify individuals and therefore, follow and match them in other areas.

So far 2020 has brought unusually many matches of humpbacks that have been seen in our Skjálfandi Bay and then spotted around the world. A total of five unique individual matches have been identified by researchers: two in Samana, Dominican Republic, two in Guadeloupe and one in Bermuda – ca. 5-6.000 km distance between Skjálfandi Bay and those areas.

This is great news and gives us even more insight to the incredible migration pattern of humpback whales. It is fascinating to imagine, that "our whales" that we see on our tours, may have a huge journey behind them or ahead of them.

"By collaborating with researchers and whale watching companies around the world we can learn much more about the lives of the humpback whales, including different threats they face along their journey and important habitats that should be protected for them", says Charla Basran, a guide and researcher by GG and Head of Húsavík Research Centre.

Gentle Giants actively supports and participates in various research projects in our area. You can also contribute by submitting your whale photos to a research database.

The 2020 whale watching season starts on 1st March and we are looking forward to see what humpback whales will hopefully visit our bay!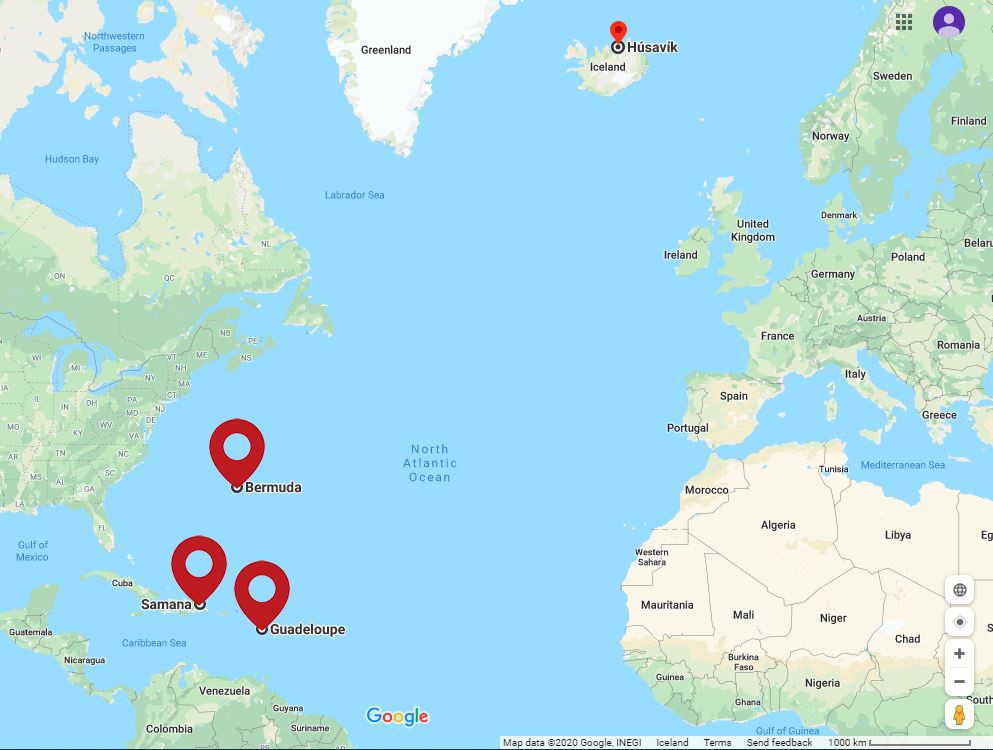 The locations where our "Skjálfandi" humpback whales were spotted.

Humpback flukes have a unique pattern and can be used for identification. Photo: Charla Basran.