OFFICIAL OPENING OF THE DIAMOND CIRCLE IN NORTHEAST ICELAND

Last week, the Diamond Circle - a picturesque circuit of about 250km in the northeastern part of Iceland – was officially opened. The touring route connects the main tourism attractions in the area as well as many stunning sights and places along the way. The five key destinations are the waterfall Goðafoss, the coastal village and Iceland's whale watching capital Húsavík, the horse-shoe shaped canyon Ásbyrgi, the waterfall Dettifoss and Lake Mývatn with all its magnificent attractions of mostly volcanic origin. Visitors travelling along the route will also find plenty of options when looking for accommodation, dining places or activities offered in the area.

After months of roadwork, the route is now paved all the way and therefore easily accessible to everyone.




Important milestone for tourism in North Iceland

"The Diamond Circle makes it possible to visit many natural attractions on the same day and it will open up the northeast area of Iceland even better for many of our guests, foreign and domestic. […] [T]he new road construction will allow many more visitors to see it and other fantastic destinations in this part of our country," said the Prime Minister of Iceland, Katrín Jakobsdóttir.

"The opening of the Diamond Circle is an important milestone for tourism in Northern Iceland. In these uncertain times for tourism it is important to build for the future. Routes such as this are an excellent way to highlight the unique natural wonders of the area,' said Þórdís Kolbrún Reykfjörð Gylfadóttir, Minister of Industries and Innovation."

(Source: Visit North Iceland – The Arctic North)




Did you get curious? More information and detailed descriptions of the route and places to visit can be found on following link:

https://www.northiceland.is/diamondcircle/diamond-circle-learn-more

Don't forget to plan in the Diamond Circle and therewith a stopover in our lovely whale watching town Húsavík on your next travel to Iceland!

- Sarah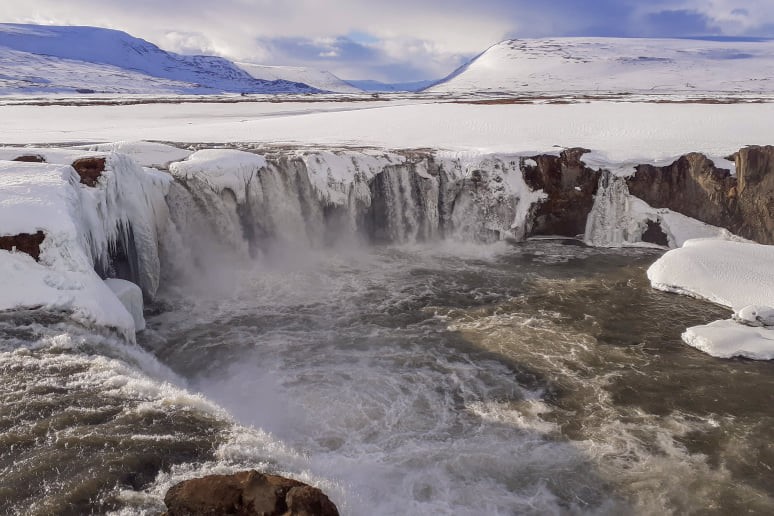 The waterfall Goðafoss is just one out of two magnificent waterfalls that can be visited along the touring route.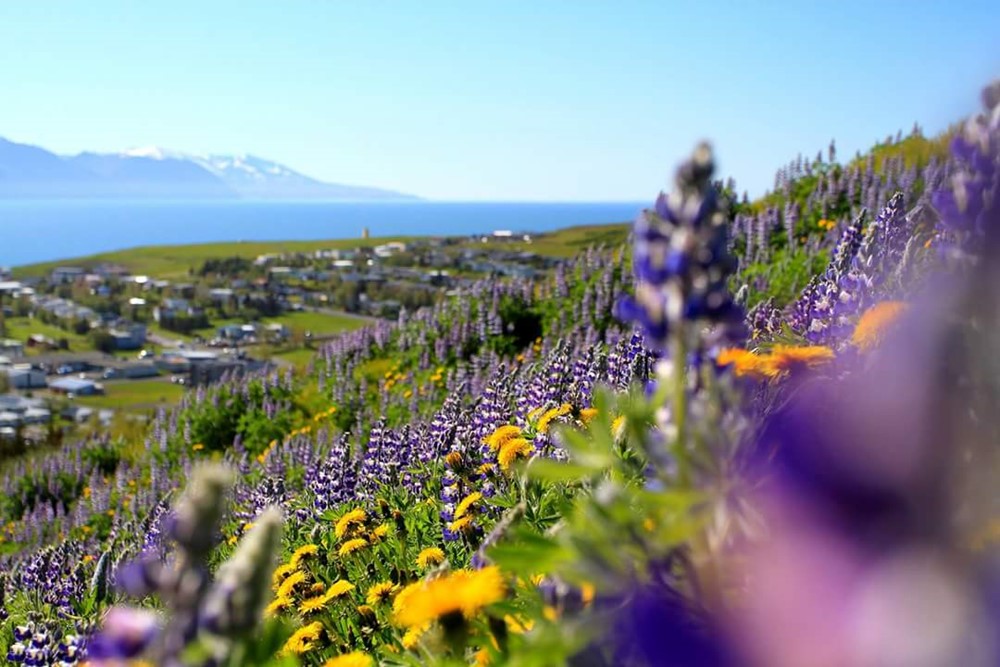 The charming village of Húsavík, also known as the whale watching capital of Iceland, is one out of five key destinations of the Diamond Circle.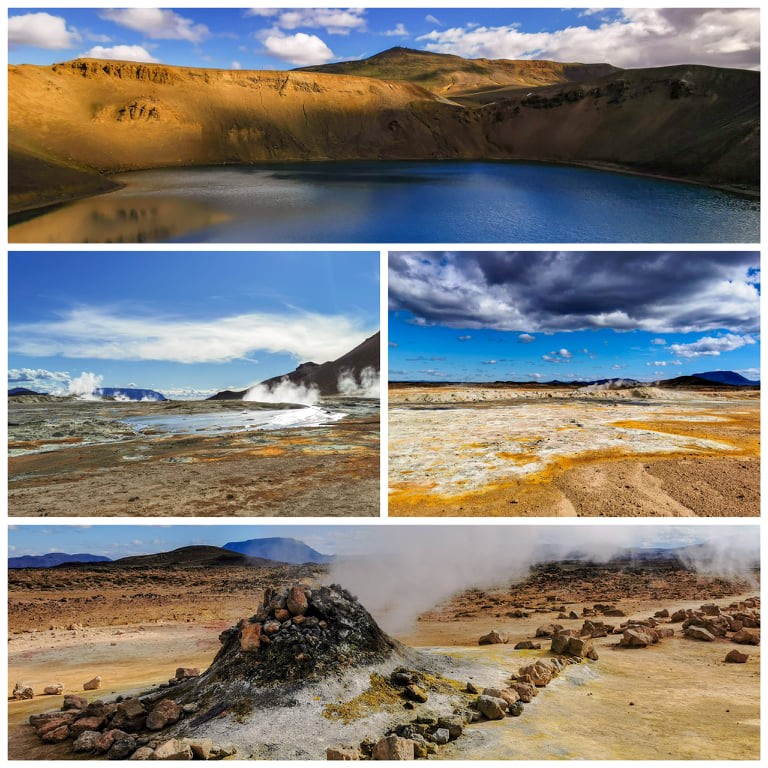 Lake Mývatn offers a variety of activities and sightseeing stops. The photos display the crater Víti and Hverir at Námafjall.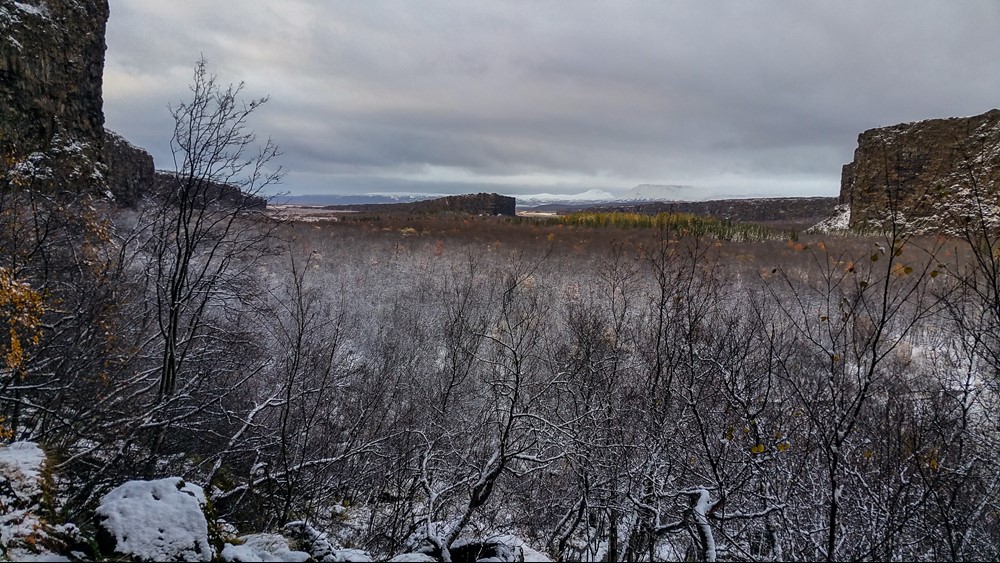 The horse-shoe shaped canyon Ásbyrgi invites its visitors to take some short walks through the forest and on to several viewing platforms, but also offers some longer hikes along the outer and inner rim for those who want to spend more time in the area.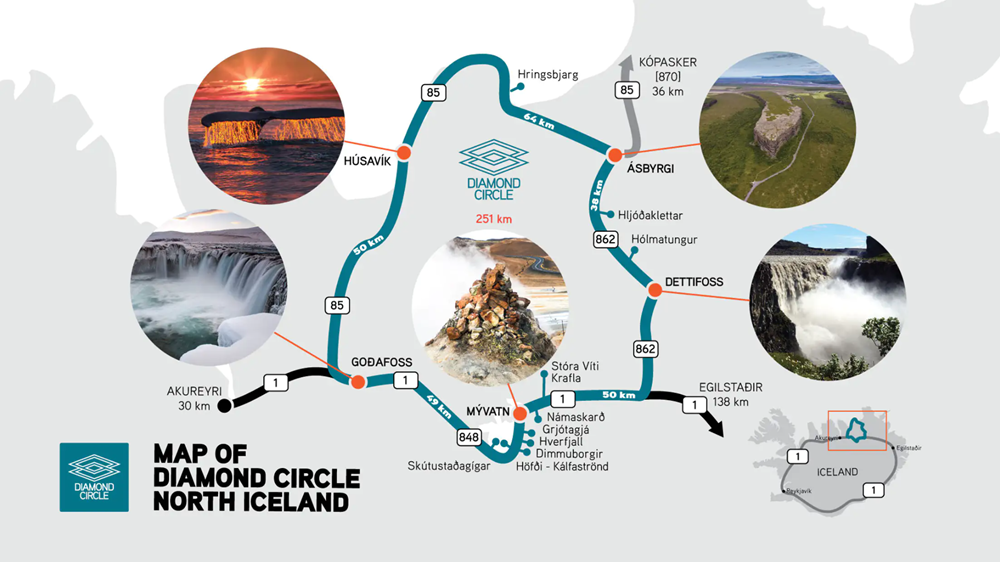 The Diamond Circle offers a wide range of sights and activities. For more information on the route and stops visit following link:
https://www.northiceland.is/diamondcircle/diamond-circle-learn-more