AWARDS GIVEN AT THE ANNUAL TOURISM FESTIVAL OF NORTH ICELAND // VIÐURKENNINGAR VEITTAR Á UPPSKERUHÁTÍÐ FERÐAÞJÓNUSTUNNAR Á NORÐURLANDI

- Íslenska fyrir neðan -

Gentle Giants is the "Company of the Year", Niceair is the "Newcomer of the Year" and Brúnastaðir í Fljótunum receives the "Motivational Award of the Year".

Yesterday, the annual tourism festival of North Iceland was held in Húsavík and the surrounding area. In honour of this occasion, companies in the area were visited, a walk to the nearby waterfall Goðafoss took place and whale watching tours on both oak and RIB speed boats were offered to the participants. Geosea then invited everyone to relax in its hot geothermal waters before everyone headed for a celebratory dinner to Fosshótel. The dinner was followed by a program that ended with dancing and joy. The day was a great success and the participants went home happy after a wonderful time together.

As usual, awards were given at the end of the festival, this time for the "Company of the Year", "Newcomer of the Year" as well as a "Motivational Award of the Year".



The "Company of the Year" award is given to a company that has gradually expanded over the last years and has created a strong position in the tourism market. The awarded company has worked on continuous development, product development and innovation and has its headquarter in North Iceland.

This year's company of the year is Gentle Giants, which has been offering whale watching in Skjálfandi Bay for over twenty years. Whale watching is an important element of the tourism in North Iceland and one of the most popular activities offered in the area all year round.

It is not least through companies such as Gentle Giants, whose founders have worked diligently to build the company and at the same time tourism in the whole of North Iceland. In the competitive world of whale watching in the north of Iceland, product development and innovation are important – and that's where Gentle Giants has been strong. A wide variety of tours is offered, which are not only about whale watching, but also bird watching, fishing, horse riding and even yoga – to name a few.
The company received the "Motivational Education Awards" from the Confederation of Icelandic Enterprise earlier this year. The company was recognized, among other things, for its hard work in the field of education, guiding and training within the company, but also for the development and cooperation with various organisations in the region and social responsibility.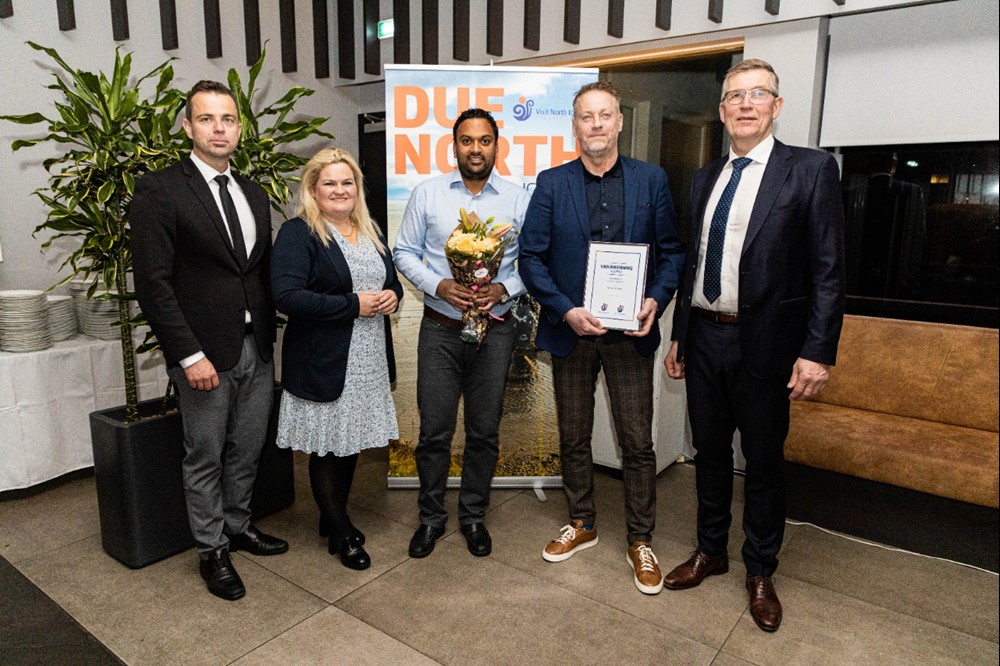 From left to right: Hjalti Páll Þórarinsson, Project Manager at Visit North Iceland; Arnheiður Jóhannsdóttir, Managing Director at Visit North Iceland; Daniel Annisius and Stefán Guðmundsson from Gentle Giants; Viggó Jónsson, Chairman at Visit North Iceland.

The "Newcomer of the Year" award is given to a young company that has created a remarkable innovation in tourism in North Iceland.
It can honestly be said that following company has attracted attention this year, as it has had a great impact on people's opportunities to travel both to and from North Iceland. This year it is Niceair receiving the award as "Newcomer of the Year". With persistence as a weapon and great faith in international flights through Akureyri Airport, Niceair representatives announced last winter that the company would start flying this summer. The response was excellent and it is clear to the people in the north and east of Iceland how much it means to have international flights close to their hometowns. The company has great opportunities in the international market, especially in regards of tourists who want to visit Iceland for the second time and look for a destination in North Iceland. If the company manages to take advantage of the opportunity, one can imagine what impact it will have on tourism in North Iceland. Despite the setback in the company's initial flight plans, it is very obvious how determined its managers are in working towards the company's successful development. Their work draws attention to North Iceland and creates new opportunities for the whole tourism industry.
The "Motivational Award of the Year" is given to a company that offers a service that represents well the image of North Iceland and has become known among domestic and foreign tourists for its unique experience.
This year it is Brúnastaðir í Fljótunum that receives this award. There, the family offers accommodation for tourists, has a small zoo and produces its own cheeses from goat's milk – all of them a real delicacy.
Brúnastaðir is a great example of how running a farm and tourism go hand in hand. There, visitors get to know Icelandic agriculture and its products, sheep farming and forestry, while at the same time they get excellent and professional service.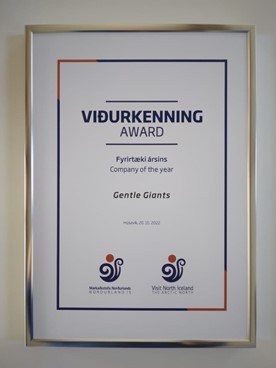 ---
Gentle Giants er fyrirtæki ársins, Niceair er sproti ársins og hvatningarverðlaun ársins hlutu Brúnastaðir í Fljótunum.
Uppskeruhátíð ferðaþjónustunnar á Norðurlandi var haldin í Þingeyjarsveit og á Húsavík í gær. Farið var í heimsóknir til fyrirtækja á svæðinu, í göngutúr við Goðafoss og boðið var upp á hvalaskoðunarferðir á bæði eikarbátum og RIB bátum. GeoSea bauð öllum svo í bað áður en haldið var á Fosshótel í hátíðarkvöldverð og dagskrá sem endaði með dansi og gleði. Dagurinn var frábærlega vel heppnaður og þátttakendur fóru heim glaðir í bragði eftir frábæra samveru.
Venju samkvæmt voru veittar viðurkenningar á hátíðinni, að þessu sinni fyrir Fyrirtæki ársins, Sprota ársins og einnig voru veitt Hvatningarverðlaun.
Viðurkenningin Fyrirtæki ársins er veitt fyrirtæki sem er búið að slíta barnsskónum og hefur skapað sér sterka stöðu á markaði. Fyrirtækið hefur unnið að stöðugri uppbyggingu, vöruþróun og nýsköpun og er með höfuðstöðvar á Norðurlandi.
Fyrirtæki ársins í ár er Gentle Giants, sem hefur í yfir tuttugu ár boðið upp á hvalaskoðun á Skjálfanda. Hvalaskoðun er ákveðið hryggjarstykki í norðlenskri ferðaþjónustu og ein vinsælasta afþreyingin sem hér er boðið upp á, árið um kring. Það er ekki síst fyrir tilstilli fyrirtækja á borð við Gentle Giants, en stofnendur þess hafa unnið ötullega að uppbyggingu fyrirtækisins og um leið ferðaþjónustu á Norðurlandi öllu. Í samkeppninni sem ríkir í norðlenskri hvalaskoðun er vöruþróun og nýsköpun mikilvæg, og þar hefur Gentle Giants verið öflugt. Boðið er upp á fjölbreytt úrval ferða, sem snúast ekki eingöngu um hvalaskoðun heldur einnig fuglaskoðun, sjóstangveiði, hesta og jafnvel jóga – svo eitthvað sé nefnt. Fyrirtækið hlaut viðurkenningu frá Samtökum atvinnulífsins fyrr á þessu ári, sem Menntasproti ársins 2022. Þá viðurkenningu fékk fyrirtækið meðal annars fyrir mikla vinnu á sviði mennta-, fræðslu-, og þjálfunarmála innan fyrirtækisins en einnig fyrir uppbyggingu á samstarfi við aðila á svæðinu og samfélagslega ábyrgð.
Viðurkenningin Sproti ársins er veitt ungu fyrirtæki sem hefur skapað eftirtektarverða nýjung í ferðaþjónustu á Norðurlandi.
Það má með sanni segja að þetta fyrirtæki hafi vakið eftirtekt á þessu ári, enda haft mikil áhrif á tækifæri fólks til ferðalaga bæði til og frá Norðurlandi. Í ár er það Niceair sem fær verðlaun sem Sproti ársins. Með þrautseigjuna að vopni og gríðarlega trú á millilandaflugi um Akureyrarflugvöll, tilkynntu forsvarsmenn Niceair það síðasta vetur að félagið myndi hefja sig til flugs í sumar. Viðtökurnar voru frábærar og það er greinilegt á fólki á Norður- og Austurlandi hefur hversu mikla þýðingu það hefur að hafa millilandaflug nálægt sinni heimabyggð. Félagið hefur mikil tækifæri á erlendum mörkuðum, þá sérstaklega hjá farþegum sem vilja heimsækja Ísland í annað sinn og horfa þá til áfangastaðar eins og Norðurlands. Takist því að nýta þessi tækifæri þarf ekki að spyrja að áhrifunum sem það mun hafa á norðlenska ferðaþjónustu. Þrátt fyrir bakslag í upphaflegum flugáætlunum félagsins er engan bilbug á því að finna og mjög augljóst hversu ákveðnir stjórnendur þess eru í því að vinna að brautargengi félagsins. Þeirra starf vekur athygli á Norðurlandi öllu og skapar ný tækifæri fyrir ferðaþjónustu eins og hún leggur sig.
Hvatningarverðlaun ársins eru til fyrirtækis sem býður upp á þjónustu sem byggir vel undir ímynd Norðurlands og er orðið þekkt meðal innlendra og erlendra ferðamanna fyrir einstaka upplifun.
Í ár er það Brúnastaðir í Fljótunum sem hlýtur þessa verðlaun. Þar býður fjölskyldan upp á gistingu fyrir ferðamenn, er með lítinn dýragarð og framleiðir sína eigin osta úr geitamjólk, sem eru algjört lostæti. Þeir sem mættu á síðustu uppskeruhátíð muna vel eftir skemmtilegri heimsókn á Brúnastaði þar sem við fengum einmitt að smakka á ostunum og hitta geiturnar á hlaðinu, auk litla refsins sem sló í gegn. Brúnastaðir eru frábært dæmi um það hvernig það fer saman að reka býli og ferðaþjónustu. Þar fá gestir að kynnast íslenskum landbúnaði og afurðum hans, sauðfjárrækt og skógrækt en um leið fá þeir framúrskarandi og faglega þjónustu. Fulltrúar fyrirtækisins gátu því miður ekki verið með á Uppskeruhátíðinni og fá þau verðlaunin afhent við fyrsta tækifæri.


Frá vinstri: Hjalti Páll Þórarinsson, verkefnastjóri hjá MN, Arnheiður Jóhannsdóttir framkvæmdastjóri MN, Daniel Annisius og Stefán Guðmundsson frá Gentle Giants, Þorvaldur Lúðvík Sigurjónsson og Helgi Eysteinsson frá Niceair og Viggó Jónsson, formaður stjórnar MN.