WELCOME TO AKUREYRI, EASYJET!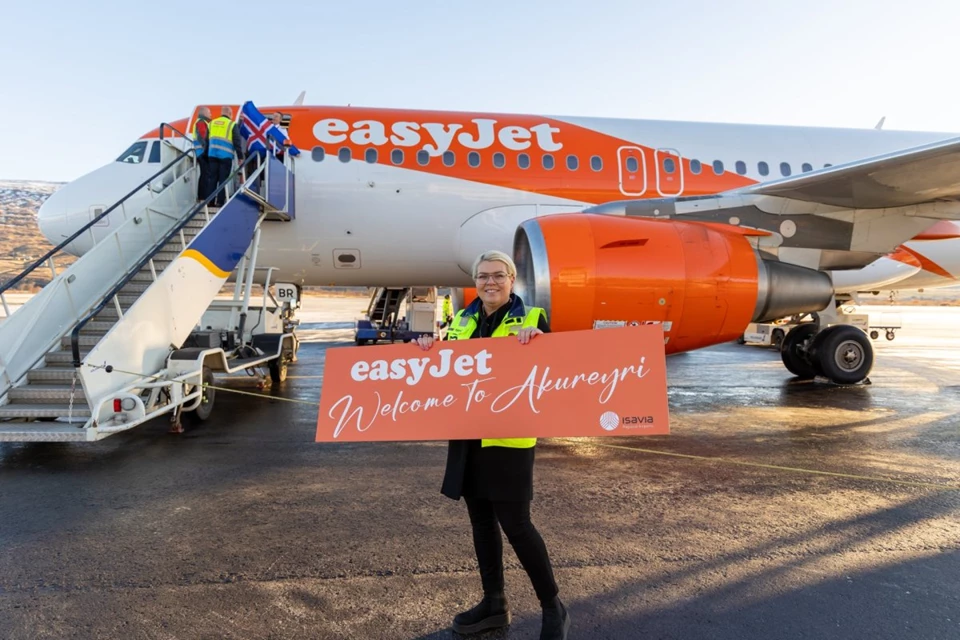 After years of planning, history was made yesterday morning as easyJet's inaugural flight from London Gatwick landed in Akureyri in North Iceland.
Representatives from Visit Iceland, Visit North Iceland, Isavia, local government and tourism companies celebrated the historic event and arrival of easyJet's plane together.
Since 2014, extensive planning and preparations for the new route had been going on between Visit North Iceland, Isavia and the airline. In spring 2023 easyJet finally announced Akureyri as a destination and has scheduled to fly the route twice a week throughout this winter.
"These flights and arrivals from the UK will encourage investment in winter tourism, which will, in turn, help to create more year-round jobs. The passengers of easyJet will travel with agents from the UK and North Iceland, buying ready-made packages, but they will also be on self-drive journeys. This creates excellent opportunities for tourism in North Iceland. We have worked on the arrival of easyJet for an extended period, in good cooperation with the local tourism companies, municipalities and government. Today, we celebrate this milestone, showcasing how vital collaboration can be when everyone aims for the same objective." (Arnheiður Jóhannsdóttir, CEO of Visit North Iceland)
While local tourism companies welcome and embrace the new route and direct link between North Iceland and Europe, also inhabitants of the whole North Iceland celebrate this new opportunity to travel internationally from Akureyri instead of having to travel to Keflavík in South Iceland first when planning a trip abroad.
Akureyri is just an hour drive away from our beautiful hometown Húsavík. Gentle Giants Whale Watching is therefore welcoming this new flight route and the arrival of easyJet in Akureyri - and while we participated in the welcome celebration at the airport, one of our staff members boarded the first flight heading back to London Gatwick yesterday morning.
"We are delighted to be launching a brand new route to Akureyri in Iceland and becoming the only UK airline to operate flights to the destination providing even more choice and variety for our customers this winter to this unique route from the UK," says Ali Gayward, easyJet's UK Country manager.
Book your north Iceland holiday here: www.easyjet.com
Photos by Visit North Iceland