WHEN WHALE WATCHING AND MAINTENANCE GO HAND IN HAND



Time flies and it is only a month until we start our 2023 whale watching season on the 1st of April. As every year during off season, all our boats undergo thorough maintenance.

When it comes to our beautiful oak boat Sylvía, who is going to start our season next month, that meant to undertake her annual journey to the town of Akureyri and be taken out of the water for some final beauty treatments.

Therefore, captain Halli and I left Húsavík harbor the other day, starting the 7 hours journey onboard Sylvía to the port of Akureyri. Skjálfandi Bay was greeting us with beautiful weather and nearly flat seas as we left Húsavík harbor in the early morning.

The first hour of sailing was filled with chatter about the last seasons, stories of some memorable whale watch tours and the "good old times".

But how could a trip on a whale watching boat be complete without actually spotting some whales enroute?

As we sailed on along the beautiful Cheek Mountains, still sharing stories from the other years, some tall dorsal fins suddenly emerged from below the surface, slicing through the crystal blue water ahead of us.

Did I just spot an orca?

As sure as I was to have seen it, the sighting was just so surreal and I couldn't believe what had just happened until that huge black dorsal fin appeared again some hundreds of meters away from us. Orcas (or killer whales) are a rare sight in Skjálfandi Bay, but occasionally show up early in the season.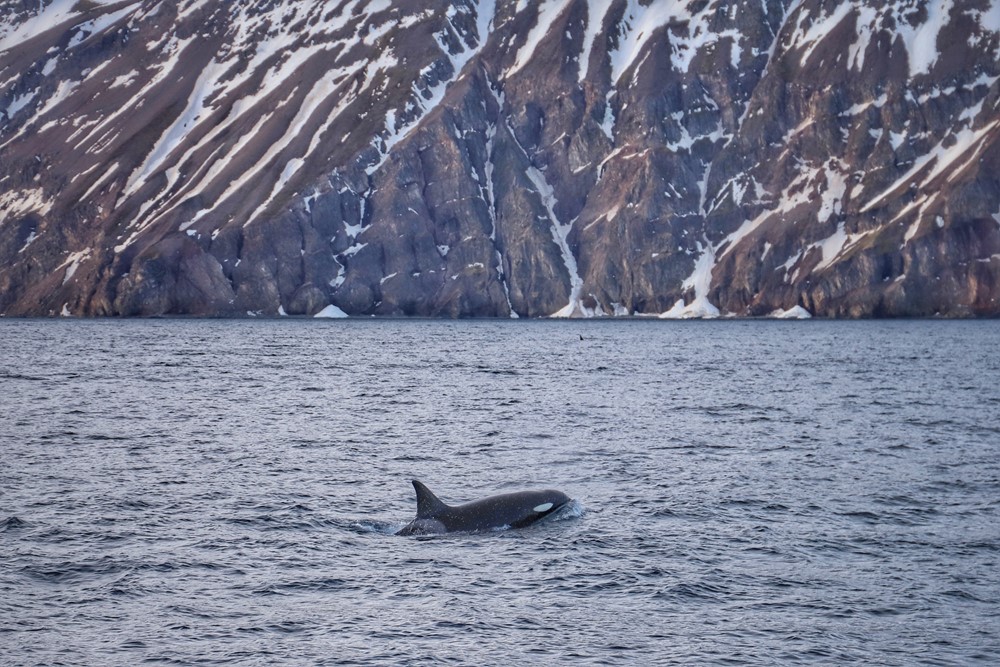 We carefully approached the individual ahead of us and after clicking some photos, continued our journey, but for the next three miles we would keep seeing the "pandas of the sea" to either side of the boat. The pod was really spread out and most of the individuals travelled on their own, but it was delighting to see them all over the area as we headed on.
Soon after we left Skjálfandi Bay behind and entered Eyjafjörður instead, which is with a length of over 60km the by far longest fjord of Iceland. At the very end of this fjord lies Akureyri, our destination that day. Just a short while had passed and a pod of white-beaked dolphins appeared next to Sylvía, but disappeared as quickly as they showed up seconds before.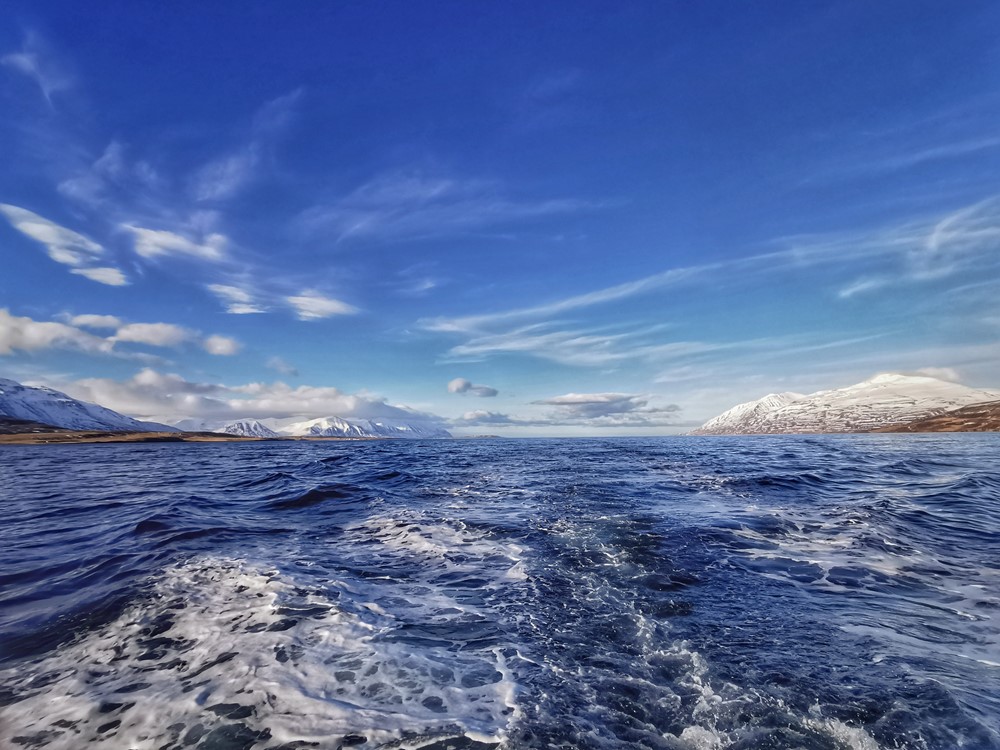 The next few miles of sailing passed by without any major events, but the views of the mountains and the fjord were just as enjoyable and breath-taking.
As we were just passing by the small island of Hrísey, Halli and I again caught up in the tales of the past, a spout appeared out of nowhere – the blow of a humpback whale! During our whale watching season, humpback whales are one of the most common sights in Skjálfandi Bay too and the sight of this individual filled both of us with joy. Once again we stopped to watch the animal for a while as it continued its doings, undisturbed by our presence – then we continued sailing towards Akureyri.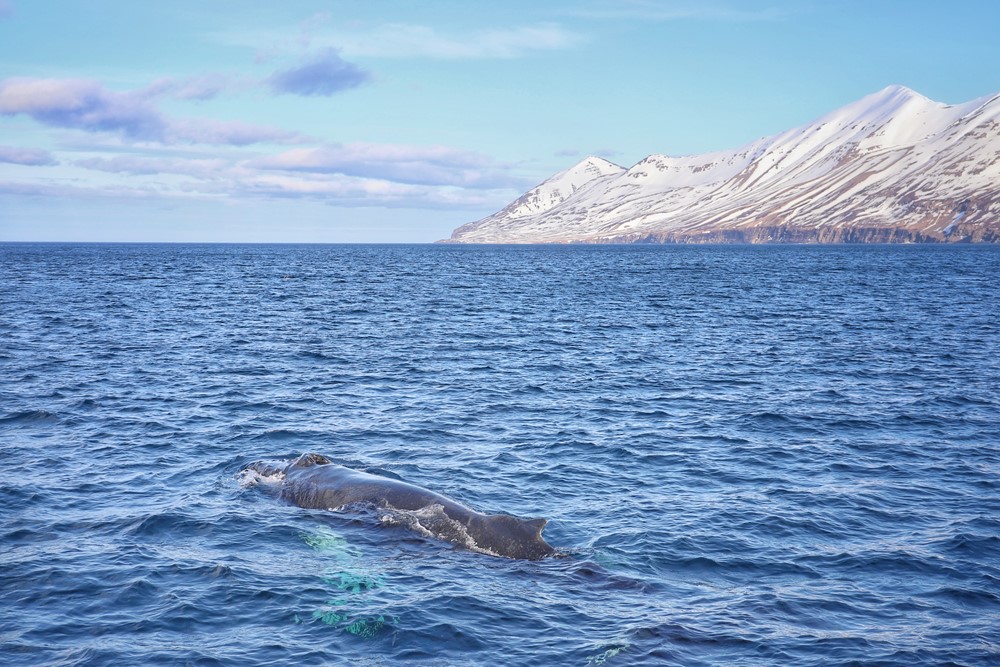 Some two hours later we finally arrived to our destination, the port of Akureyri. Sylvía by now has been taken out of the water and will be finished up for the season's start over the next couple of days - before returning to her home port here in Húsavík later this month.
- Sarah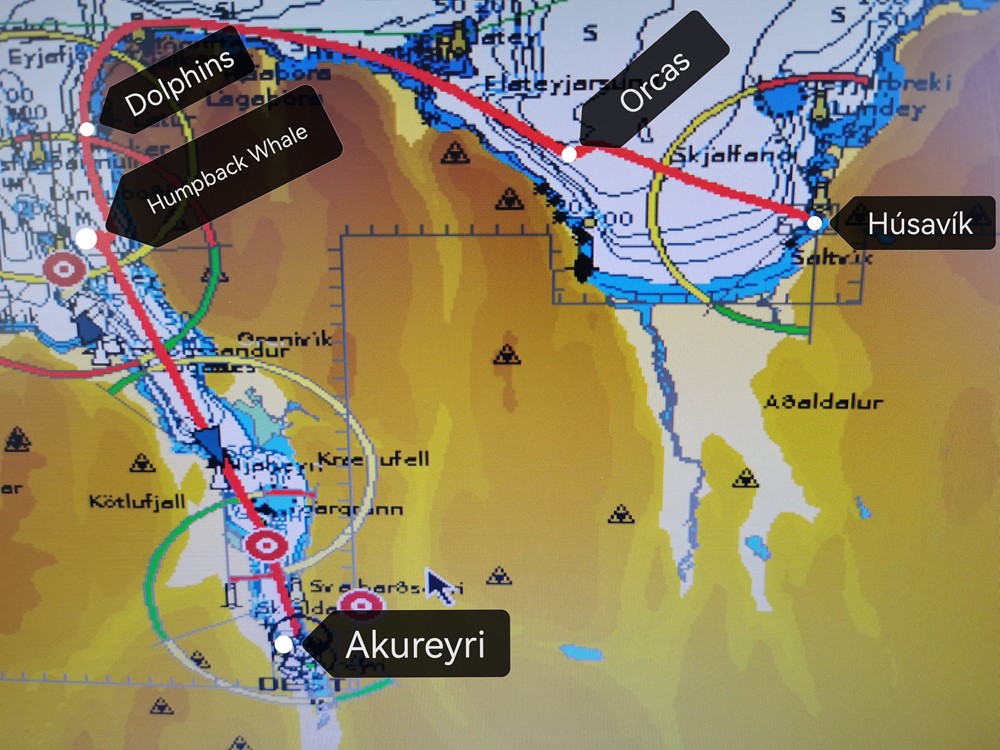 Our sailing route from Húsavík to Akureyri.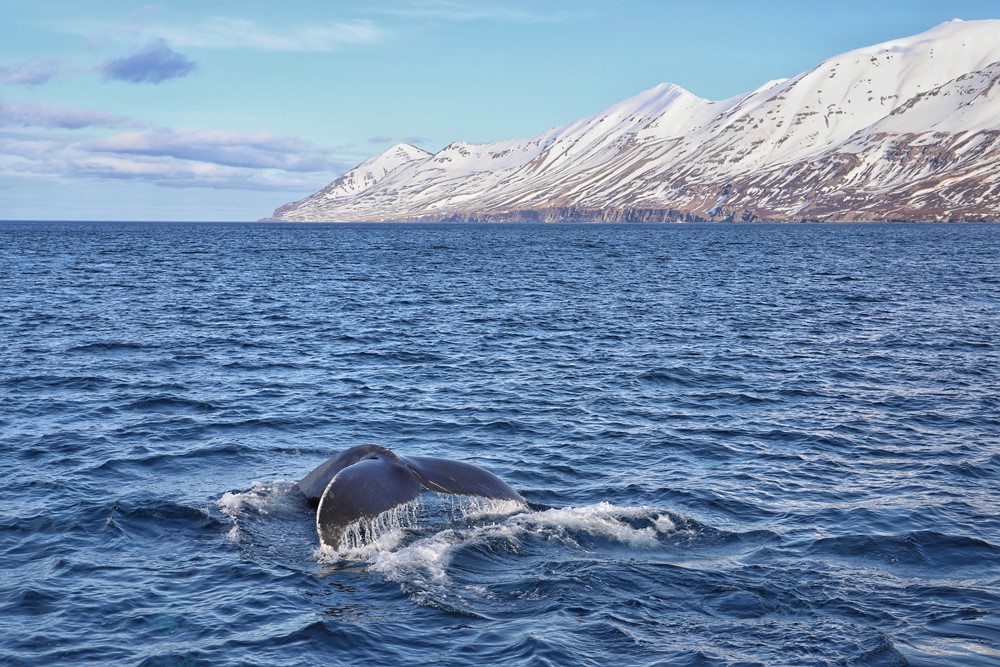 The humpback whale leaving for a final dive before we continued our journey through the fjord.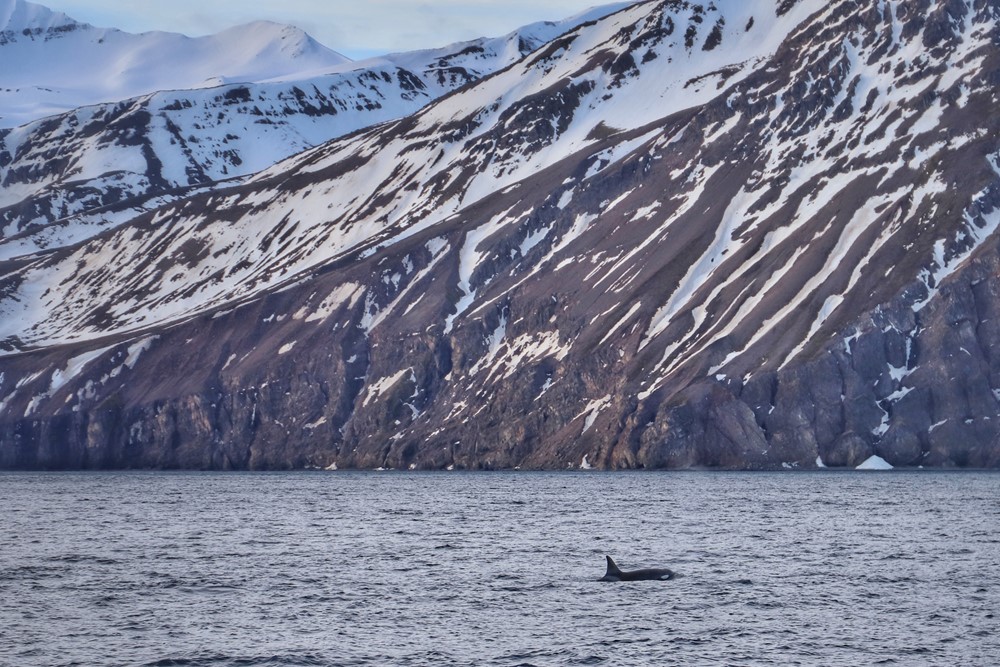 One more shot of the orca with the beautiful Cheek mountains in the background.